EDC Gear 2023: An Arbitrary List of Gear that Gets Recommended a Lot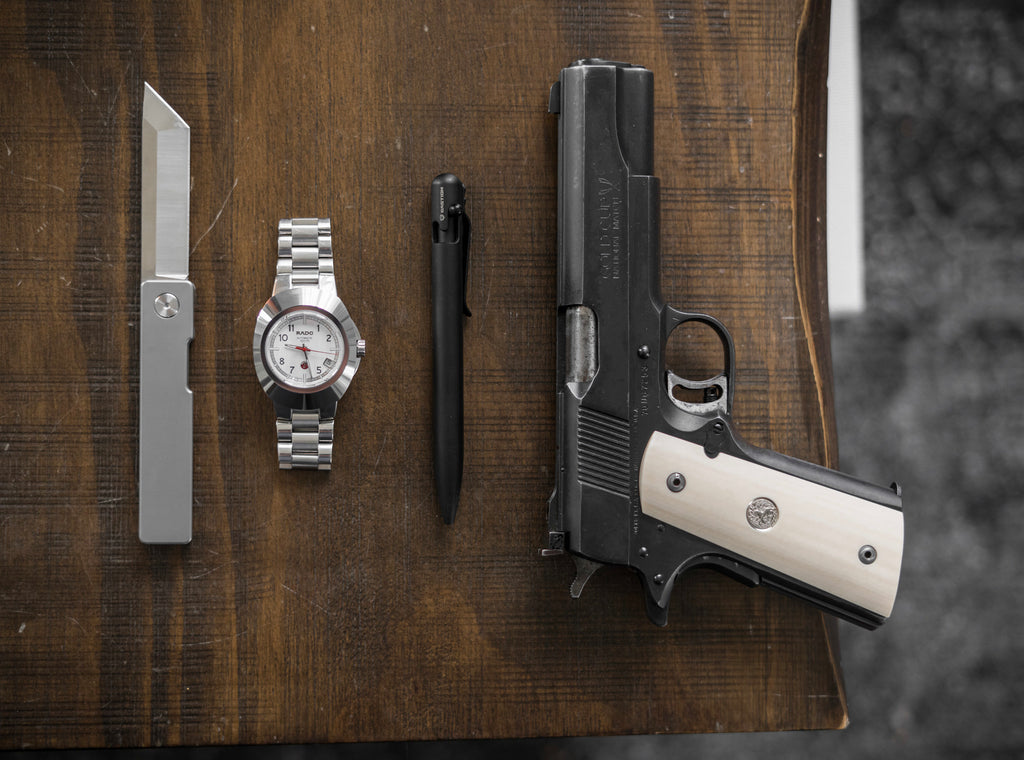 When it comes to everyday carry (EDC) gear, the choices can be overwhelming. With new products constantly hitting the market, it's hard to determine which ones are truly worth investing in. That's why we've compiled this arbitrary yet highly recommended list of EDC gear for 2023. From pliers to portable chargers and even firearms, we've got you covered. So let's dive in and discover the must-have gear that will elevate your EDC game to the next level!
Knives
Knives are a staple of any EDC gear 2023, offering practicality, versatility, and a touch of style. Here are some knives that consistently receive praise from the everyday carry community:
Additionally, regarded as the cheapest quality knife available, the Opinel No.8 is a crowd favorite. Additionally, it comes in different sizes, but the No.8 stands out as the most popular. With its nail nick style and locking blade, this knife is a reliable companion. Just remember that the carbon steel versions are prone to rust.
MagBlade - Magnetic Titanium Knife
Additionally, the MagBlade Magnetic Titanium Knife is the crème de la crème of pocket knives, setting itself apart with its truly distinctive features. Firstly, the knife boasts a magnetic locking mechanism that keeps the blade securely fastened when closed, delivering a gratifying snap as the blade clicks into place. Moreover, this innovation dds to the knife's allure and ensures that the blade remains firmly shut, averting accidental openings in your pocket.
TiSlide - Titanium Gravity Knife
Introducing the TiSlide, a mesmerizing titanium gravity blade that transcends ordinary cutlery. This knife is a true masterpiece with its gravity-assisted opening mechanism and exquisitely polished blade. Crafted for a lifetime of exceptional performance. Moreover, the TiSlide boasts an indestructible titanium frame and a blade forged from the extraordinary M390 material. Impeccably engineered from Grade 5 titanium, this knife marries strength and feather-lightness in a symphony of design. Its flawless construction guarantees resilience and agility, rendering it an unrivaled gem to enhance any everyday essentials. Prepare to be captivated by the allure of TiSlide, the epitome of cutting-edge elegance.
Additionally, highly recommended in the budget category for the EDC gear 2023, the Ontario Rat 2 offers solid construction, decent steel, and a pleasing full flat grind. It's a great option for those who want a knife that's not overly aggressive and can be carried in various settings. There's also a larger version called the Ontario Rat 1, which shares the same qualities.
Additioanally, don't judge a book by its cover—or a knife by its looks. The Spyderco Tenacious may not win any beauty contests, but its performance speaks for itself. This Chinese-made knife is part of Spyderco's value line and features a 3.375" blade. It comes in different sizes, including the Ambitious, Persistence, Efficient, and Resilience. Furthermore, the Tenacious offers various handle materials, blade types, and edge styles to suit your preferences.
A long-standing favorite, the Kershaw Leek has become an iconic knife in the EDC community. Additionally, this assisted-opening knife boasts a snappy and satisfying deployment. With a wide range of colors, materials, blade shapes, and edge types to choose from, the Leek offers something for everyone.
Featuring a grippy and durable handle, the Spyderco Delica offers a fantastic ambidextrous experience with its 4-way clip and lockback mechanism. Additionally, available in various colors, steels, blade styles, and edge types, this knife is a reliable and versatile companion for your EDC needs.
Moreover, considered a super tough workhorse, the Benchmade Griptilian stands out with its innovative and beloved axis locking mechanism. Available in full-size (3.45") and mini (2.91") versions, with drop point or Sheepsfoot blades, plain edge or partially serrated, and even a tanto version.
When the Benchmade Bugout was released in 2017, it caused a stir in the knife and EDC communities. This ambidextrous knife features a 3.24" blade and weighs a mere 1.85oz. Moreover, its popularity has led to a thriving aftermarket community that offers a plethora of customization options, from scales to hardware colors and materials. If you prefer a smaller version, check out the Bugout Mini (533) with a 2.875" blade.
Arguably the most popular offering from Spyderco, the PM2 combines super smooth action, an excellent compression lock, and outstanding ergonomics. With a wide selection of materials to choose from, the PM2 ensures there's a perfect fit for everyone. Moreover, if the 3.4" blade size is a bit too large for your liking, consider the Para 3, which offers a more compact 3" blade.
Though it may be a bit long in the tooth, the Benchmade 940 remains a highly sought-after EDC knife in this EDC gear 2023 list. The standard edition features a 3.4" blade with green aluminum handles. However, Benchmade offers various versions, including an auto (9400), a carbon fiber variant with S90V steel (940-1), a G10 model (940-2), and a mini version with a 2.9" blade (945).
Flashlights
A reliable flashlight is an essential tool in any EDC kit. Here are some highly recommended options from the flashlight community:
Additionally, the Lumintop Tool AAA is a popular flashlight powered by a single AAA battery. Unlike its twisty predecessor, this version features a convenient tail switch. It comes in a variety of finishes to suit your style.
Offering a neutral tint, high color rendering index (90 CRI), and 450 lumens (briefly), the Rovyvon Aurora A1 is an excellent option. Additionally, it supports USB-C charging and weighs a mere 16g. Different versions are available, offering various body materials, sizes, and colored LEDs on the sides.
The Reylight Pineapple Mini is a premium 1xAAA (or 1x10440 Li-ion) flashlight with a tail switch and a Nichia 519A LED. Moreover, this LED provides excellent color rendering and a neutral tint. The flashlight is available in aluminum, titanium, copper, brass, anodized titanium, and even a double AAA/10880 version.
As a general-use light, the Wurkkos FC11 offers USB-C charging and now supports proper C-to-C connections. With a strong magnet in the tailcap and a pocket clip, this light is versatile and suitable for larger pants pockets. Furthermore, most people prefer the 4000K or 5000K versions, which provide pleasant daylight-like illumination. The FC11 accommodates an 18650 battery.
Additionally, the Skilhunt M150 is a smaller everyday carry light that shares many characteristics with the FC11. It features a smaller battery size (14500) and a magnetic charging connector. While the M150 can also use AA batteries. Moreover, the built-in charger only works with a 14500. With its compact dimensions (21mm wide and 84mm long), this light is a practical choice.
The Emisar D4V2 has become a favorite among flashlight enthusiasts. With eight LED options available, the 4500K, 90+ CRI Nichia 519A is highly recommended for most users.
While not on r/Flashlight's recommended list, the Streamlight MicroStream remains a fan favorite on r/EDC. This simple flashlight features a tail button clicky switch with high or low mode options. It's available in a 45 lumen AAA version or a 250 lumen USB rechargeable version. Though the button may feel slightly stiff, it's a reliable and straightforward flashlight.
Additioanally, another flashlight not on r/Flashlight's recommended list but gaining popularity is the Olight i3T. Often considered the Chinese version of the MicroStream, it runs on AAA batteries and features a tail switch with a 5 lumen low mode and a 180 lumen high mode.
Pens
A good pen is a versatile tool that comes in handy for various everyday tasks. Here are some well-regarded pens that receive frequent recommendations in EDC gear 2023:
The Pilot G2 offers a smooth roller ball writing experience and is widely recommended, especially for those on a budget or prone to misplacing pens.
With its classy appearance, the Parker Jotter is an excellent choice for both EDC and formal events. It comes in retro 90's black plastic or all stainless construction and is compatible with gel refills, providing a high-quality writing experience.
The Zebra F-301 offers a more premium feel with its stainless steel barrel. However, note that the plastic grip may be prone to breaking if you accidentally sit on it.
An upgrade over the F-301, the Zebra F-701 features all stainless steel construction, enhancing durability. Many users appreciate the tactile feel of the stainless steel grip. Some even modify this pen to accept different refills or achieve an all stainless steel appearance.
The Pokka Pen utilizes a pressurized cartridge and sports a design similar to the Bullet. However, its cap screws on the back, making it convenient for quick deployment.
Considered one of the most highly recommended pens for those interested in fountain pens, the Lamy Safari is available in a wide variety of colors. It's an excellent entry point into the world of fountain pens.
Fisher Space Pen (Bullet) ($26-29)
The Fisher Space Pen, often recommended by many, is known for its versatility and durability. While the writing experience may not be as smooth as other pens, it excels in adverse conditions. It can write underwater, through grease, at any angle, and even in zero gravity. Currently, it's available in matte black, brass, or chrome.
Watches
Wearing a watch not only helps you keep track of time but also adds a touch of style to your EDC gear 2023 ensemble. Here are some popular watch recommendations:
This small, affordable watch features a classic design and surprising toughness. It's an excellent choice for first-time watch users who want to test the waters without a significant investment.
The Casio MQ24-7B2 is a round watch with a logoed white dial, a plastic case, and quartz movement with analog display. It's water-resistant and offers a straightforward and reliable timekeeping experience.
The Timex Weekender is an analog watch preferred by those who appreciate a more traditional style. It features quartz movement and a versatile design suitable for various occasions.
The Seiko 5 is a mechanical watch that has gained a dedicated following. With its reliable movement, robust construction, and diverse range of styles, the Seiko 5 offers excellent value for the price.
Citizen Eco-Drive ($150-300)
Citizen's Eco-Drive watches are powered by light, eliminating the need for battery replacements. With their sleek designs and reliable performance, they are a popular choice for many EDC gear 2023 enthusiasts.
Multitools for EDC Gear 2023: Be Prepared for Anything
When it comes to compact multitools, the Gerber Dime takes the crown for the best value. Although Gerber's quality may not always match that of Leatherman, the Dime provides exceptional functionality at an affordable price.
The SAK Classic Alox is a small yet handy multitool that's perfect for situations where carrying knives may not be suitable. With various tools at your disposal, this multitool offers versatility while maintaining a discreet profile. Non-Alox versions are also available at a slightly lower cost.
Leatherman Style PS - $35
Designed with travel in mind, the Leatherman Style PS is a TSA-safe multitool that can accompany you on your adventures without any hassle. Whether you're a frequent traveler or someone who appreciates a compact and practical EDC gear or tool 2023, the Style PS won't disappoint.
A favorite among many EDC enthusiasts in this EDC gear 2023, the SAK Super Tinker is a slightly larger version of the iconic Swiss Army Knife. Packed with additional tools compared to its smaller counterpart, the Cadet, the Super Tinker is what comes to mind for most people when they think of a Swiss Army Knife.
Leatherman Squirt PS4 - $40
The Leatherman Squirt PS4 is a compact multitool that effortlessly fits in your pocket without weighing you down. Despite its small size, it manages to offer an impressive array of tools, making it a reliable companion for everyday tasks.
If you're looking for a multitool that strikes a balance between compactness and functionality, the SAK Cadet Alox is an excellent choice. With a few additional tools compared to the SAK Classic Alox, this multitool delivers versatility while remaining highly portable.
The SAK Pioneer is a robust multitool that boasts a large blade, reamer/punch, can opener, screwdrivers, wire stripper, and more. Its reliable construction and diverse toolset make it a popular choice among EDC gear 2023 enthusiasts.
Leatherman Skeletool - $75
For those who prioritize functionality and simplicity, the Leatherman Skeletool is a no-nonsense tool that gets the job done. With its lightweight design and pliers at the forefront, this multitool is highly recommended for individuals who rely on pliers in their daily activities.
When it comes to comprehensive multitools, the Leatherman Wave is the go-to option. With a wide range of tools, this tool can handle almost any task you throw at it. While it may be a bit large and heavy for everyday carry, its versatility is unmatched. If you're seeking an even more advanced version, consider the bigger brother, the Charge TTi, though it comes with a higher price tag.
Keychain Tools: Compact Solutions for Everyday Needs
Nite Ize S-Biner Bottle Opener - $5
This versatile tool not only functions as a bottle opener but also doubles as a key holder. You'll be surprised by how often you find yourself relying on it once you have it.
The KeySmart offers a sleek and organized way to carry your keys. With its compact design, it keeps your keys neat and reduces jingling noises in your pocket.
If you prefer a traditional key ring but want the convenience of easy key removal, the FreeKey is the perfect solution. It allows you to add or remove keys effortlessly, making your daily life a little more convenient.
If you're looking for a stylish alternative to traditional key rings, the Orbitkey in leather is a fantastic choice. It combines elegance with functionality, ensuring that your keys stay organized and easily accessible.
For those who dislike the sound of jingling keys, the Keybar is an excellent alternative. Available in various materials, this sleek key organizer eliminates noise and keeps your keys securely in place.
Wallets: Slim and Secure Solutions
Bellroy Slim Sleeve - $80
The Bellroy Slim Sleeve is a minimalist wallet designed to keep your essential cards and cash secure without adding unnecessary bulk. With its sleek profile and high-quality construction, it's a top choice for those seeking a stylish and functional wallet.
Known for its modern and durable design, the Ridge Wallet has gained popularity among EDC gear 2023 enthusiasts. Made from materials like aluminum or titanium, it offers RFID-blocking technology and a slim profile that fits comfortably in your pocket.
PT1 - Leather Wallet - Minimalist Wallet
It is introducing the PT1, a sleek and minimalist front pocket wallet that boasts a capacity of up to seven cards plus cash. Crafted from luxuriously soft genuine leather and meticulously handmade, the PT1 exudes elegance and durability. Moreover, with its hassle-free lifetime guarantee, this wallet is built to last, promising you years of dependable use. Its elastic pull tab provides a satisfying grip, allowing quick and easy access to your cards, while the military-grade button hardware lends a ruggedness to its design. As a result, the PT1 strikes the perfect balance between style, functionality, and minimalism, making it the ultimate wallet for the modern minimalist.
Dango T01 Tactical Wallet - $100
If you're looking for a wallet that goes beyond carrying cards and cash, the Dango T01 Tactical Wallet is worth considering. With its combination of a robust frame, multitool integration, and paracord tether, it caters to those who appreciate preparedness and functionality.
The Trayvax Contour is a rugged and reliable wallet made from stainless steel and top-grain leather. It features an integrated money clip, RFID protection, and a customizable design that adapts to your needs.
Saddleback Leather Front Pocket ID Wallet - $49-59
For those who prefer a more traditional look, the Saddleback Leather Front Pocket ID Wallet offers a timeless and durable option. Crafted from full-grain leather, this wallet ages beautifully and can hold your essentials securely.
Water Bottles: Stay Hydrated on the Go
Hydro Flask Standard Mouth - $30-40
Hydro Flask is renowned for its high-quality, insulated water bottles that keep your beverages hot or cold for hours. The Standard Mouth version is a versatile option for everyday use, available in various sizes and colors.
Nalgene Wide Mouth - $10-15
The Nalgene Wide Mouth bottle has been a favorite among outdoor enthusiasts for years. Its durable construction, wide opening for easy filling and cleaning, and ability to hold a large volume of liquid make it a reliable choice for staying hydrated.
Klean Kanteen Classic - $20-35
The Klean Kanteen Classic is a stainless steel water bottle that prioritizes both durability and sustainability. It's available in different sizes, with features like leak-proof caps and compatibility with various accessories.
CamelBak Chute Mag - $14-28
The CamelBak Chute Mag offers a convenient drinking experience with its magnetic cap that secures in place when open. It comes in different sizes, making it suitable for both everyday carry and outdoor adventures.
Yeti Rambler Bottle - $30-50
The Yeti Rambler Bottle is a robust and well-insulated water bottle designed to withstand rough conditions. With its durable construction and excellent temperature retention, it's a reliable companion for any outdoor activity.
Belts: Style and Functionality Combined
Anson Belt & Buckle - $50-100
Anson Belt & Buckle offers a range of stylish and versatile belts that are designed to provide a perfect fit. With their unique micro-adjustable system and high-quality materials, these belts offer both comfort and durability.
The Mission Belt stands out for its innovative design and mission to fight global poverty. These belts feature a no-hole design, allowing for a customized and precise fit. Plus, a portion of each purchase goes toward helping people in need.
SlideBelts offer a sleek and functional design with their ratchet belt system. With an easy-to-adjust mechanism, these belts ensure a comfortable fit and can be easily customized to match your style.
Grip6 Belts are known for their minimalist and lightweight design. Made from high-quality materials like aluminum and nylon, these belts provide a secure hold without the bulk of traditional belt buckles.
Arcade Belts combine style and functionality with their stretchy and adjustable design. These belts are perfect for active individuals who value comfort and flexibility in their everyday carry.
Medical Gear: Be Prepared for Emergencies
North American Rescue Individual Aid Kit (IFAK) - $60-80
The North American Rescue IFAK is a comprehensive first aid kit designed for individual use. It contains essential medical supplies and tools to address common injuries and emergencies, making it a reliable option for those who prioritize preparedness.
Adventure Medical Kits Ultralight/Watertight Series - $20-40
Adventure Medical Kits offers a range of compact and lightweight first aid kits suitable for various outdoor activities. Their Ultralight/Watertight Series provides essential medical supplies in a waterproof and durable packaging, ensuring you're ready for unexpected situations.
MyMedic MyFAK First Aid Kit - $100-150
The MyMedic MyFAK First Aid Kit is a comprehensive and versatile kit designed for various emergency situations. It includes a wide range of medical supplies, organized in a compact and durable case for easy accessibility.
Tactical First Aid Kit - $30-50
Tactical offers a range of first aid kits designed specifically for outdoor enthusiasts and professionals. These kits are well-organized, durable, and equipped with essential supplies to handle common injuries and emergencies.
Surviveware Small First Aid Kit - $35-50
The Surviveware Small First Aid Kit is a compact and lightweight kit designed for outdoor adventures. It features labeled compartments for easy organization, high-quality medical supplies, and a durable case that can withstand harsh conditions.
Pouches: Keep Your Gear Organized
Maxpedition EDC Pouches - $17-65
Maxpedition offers a variety of EDC pouches known for their durability and functionality. Whether you need a small pouch for essential items or a larger one for organizing your gear, Maxpedition has options to suit your needs.
Vanquest EDC Pouches - $20-35
Vanquest specializes in high-quality EDC pouches designed for optimal organization. Their pouches feature multiple compartments, MOLLE compatibility, and rugged construction to withstand demanding situations.
Pouch Potato EDC Pouch Organizer
Now, let's meet the star of the show – the Pouch Potato EDC pouch! With its compact dimensions measuring approximately 6.5 inches by 4.5 inches, this little wonder packs a powerful punch when it comes to organizing your EDC essentials. It's like a pocket-sized command center that fits snugly into your bag or pocket without weighing you down like a sack of potatoes.
Pouch Potato Mini EDC Pouch Organizer
The Pouch Potato Mini EDC Pouch Organizer is a game changer, equipped with features that will make your heart skip a beat (in a good way!). Made from 500D Cordura, this little gem is as tough as nails. It can withstand the most treacherous adventures, whether you're hiking through the wilderness or exploring the concrete jungle. And let's not forget about those military-grade water-resistant zippers, because we all know how unpredictable Mother Nature can be.
Hazard 4 Pouches - $25-60
Hazard 4 pouches combine tactical functionality with sleek design. These versatile pouches offer various attachment options, quick-access compartments, and durable materials to keep your gear secure and easily accessible.
Condor Outdoor Pouches - $10-30
Condor Outdoor provides a range of affordable yet reliable pouches suitable for EDC needs. From small utility pouches to larger admin pouches, Condor Outdoor offers practical solutions for organizing your gear.
Spec-Ops Brand Pouches - $20-50
Spec-Ops Brand is known for its rugged and innovative pouch designs. With features like adjustable internal dividers, high-quality materials, and versatile attachment options, their pouches are designed to meet the demands of EDC enthusiasts.
Lighters: Ignite Your Fire
Bic Classic Lighter - $1/each
The Bic Classic Lighter is a reliable and affordable option for everyday use. Available in various colors, these disposable lighters are convenient and easy to carry, making them a popular choice among smokers and outdoor enthusiasts alike.
Zippo lighters are iconic for their durability and timeless design. With their refillable and windproof nature, Zippo lighters have become a symbol of reliability. They offer a wide range of designs and finishes to suit your style.
Tesla Coil Lighters - $15-30
Tesla Coil Lighters utilize innovative plasma arc technology, eliminating the need for fuel or flame. These rechargeable lighters are windproof and provide a unique and eco-friendly way to ignite fires.
UST TekFire Fuel-Free Lighter - $20-30
The UST TekFire Fuel-Free Lighter is another flameless option that uses a built-in rechargeable battery and electric arcs to create fire. With its compact design and weatherproof construction, it's a reliable tool for outdoor enthusiasts.
Xikar Stratosphere Lighter - $20-30
The Xikar Stratosphere Lighter is designed for outdoor enthusiasts who require a durable and windproof lighter. Its rugged construction, water-resistant capabilities, and adjustable flame make it a reliable companion in various weather conditions.
Pry Bars: Versatile Tools for Everyday Carry
The Nite Ize DoohicKey is a compact and multifunctional pry tool. With features like a bottle opener, wrench, screwdrivers, and a serrated edge, it's a handy tool for everyday tasks and emergency situations.
The Gerber Shard is a small keychain multitool that includes a pry bar, wire stripper, and various screwdrivers. Its lightweight and compact design make it a convenient addition to your EDC toolkit.
The CRKT Pryma features a versatile design with a straight edge, bottle opener, pry tip, and wrenches. With its compact size and practical functionality, it's a reliable tool for everyday tasks and quick fixes.
CountyComm Pocket Widgy Pry Bar - $20-30
The CountyComm Pocket Widgy Pry Bar is a robust and versatile tool made from hardened stainless steel. Its compact size and wide range of functions, including pry bar, nail puller, scraper, and wrenches, make it a valuable addition to any EDC loadout.
Leatherman Brewzer - $10-15
The Leatherman Brewzer is a pocket-sized multitool that includes a pry tip, bottle opener, and flathead screwdriver. Its durable stainless steel construction and lightweight design make it a popular choice for everyday tasks and on-the-go needs.
Pliers - Versatile Tools for Everyday Tasks
Pliers are an indispensable tool in any EDC kit. Whether you need them for quick repairs or intricate tasks, dedicated pliers can come in handy. Here are a few highly recommended options:
These 4.5-inch pliers feature a single-dipped handle for easy cleaning and a secure grip. With a black oxide finish, they are also resistant to corrosion, ensuring long-lasting performance.
Irwin Vise Grips 1002L3 ($13)
If you prefer locking pliers, the Irwin Vise Grips are a solid choice. With a 4-inch size and 1-inch jaw capacity, these no-frills pliers get the job done. Plus, they come with built-in wire cutters for added versatility.
Made in the USA, these 4.5-inch pliers are constructed from high-carbon steel, providing durability and strength. With 1/2-inch jaw capacity and 3 adjustments, they offer great versatility for a variety of tasks. The 90° teeth ensure a firm grip.
Knipex Cobra XS Water Pump Pliers ($29)
If you're looking for top-of-the-line pliers, the Knipex Cobra XS is the way to go. Available in different sizes, the 4-inch version is particularly popular for EDC. These pliers are renowned for their exceptional quality, rubber grips (on the 5-inch variant), and button adjustment mechanism.
Miscellaneous EDC Gear 2023 - Enhancing Your Everyday Carry
In addition to pliers, there are several other essential items you should consider adding to your EDC gear 2023 arsenal. Let's explore a few of them:
Anker Portable Charger ($22)
Never worry about running out of battery again. This 10,000mAh power bank is a top-seller in its category on Amazon. It offers at least one full charge for most smartphones and even works with an iPad Mini. Stay connected on the go!
Rite in the Rain Notebooks ($7-41)
Additionally, these waterproof, dirt-proof, and sweat-proof notebooks are perfect for jotting down important notes or sketches, no matter the weather conditions. Available in various configurations, including spiral, stapled, soft, and hardcover options.
The quintessential EDC notebook. Compact and convenient, these pocket-sized notebooks easily fit into your back pocket. They'll be there when you need them, even if you forget they're there. Just be careful not to wash your pants!
For those who prefer a larger notebook or journal, Moleskine is a trusted brand. Perfect for keeping track of meeting notes or quickly jotting down important information at your desk, these notebooks are better suited for bags or briefcases.
POM OC (Pepper) Spray ($13)
If you're seeking a non-lethal self-defense tool, consider POM OC spray. It provides an effective means of protection and is a good starting point for personal safety.
Guns - A Controversial Choice for EDC
Now, we come to a topic that often sparks heated debates: carrying firearms as part of your EDC. It's important to note that firearms are not legal or desired in all locations. If you choose to carry a firearm, please ensure you receive proper training, practice regularly, and fully understand the legal implications. 
This super-small and compact handgun is ideal for discreet concealed carry.
Renowned for its reliability and ease of concealment, the M&P Shield is available with or without a thumb safety. Its single-stack design makes it a popular choice among EDC enthusiasts.
SIG Sauer P320 ($550-700)
This modular pistol from SIG Sauer offers future caliber and size conversion kits, providing flexibility for different needs. Its short trigger with minimal overtravel ensures precise shooting. The compact model is suitable for concealed carry.
Although not explicitly recommended, the Glock 19 is incredibly popular, as evidenced by its ranking as the top-selling handgun in 2022. Despite its divisive appearance, its aftermarket support is unparalleled.
Furthermore, another non-recommended yet highly sought-after handgun, the P365 made waves when it was introduced in 2018. It revolutionized the industry with its innovative magazine design, packing 10 rounds into a compact frame. It remains a strong seller with multiple variants available.
Final Thoughts
There you have it—the arbitrary list of EDC gear for 2023 that receives consistent recommendations. From versatile pliers to essential accessories and even firearms, these items will equip you for various everyday tasks and potential scenarios. Remember, always research and consider local laws and regulations before adding firearms to your EDC. Stay prepared, stay safe, and elevate your everyday carry with these highly recommended gear options!