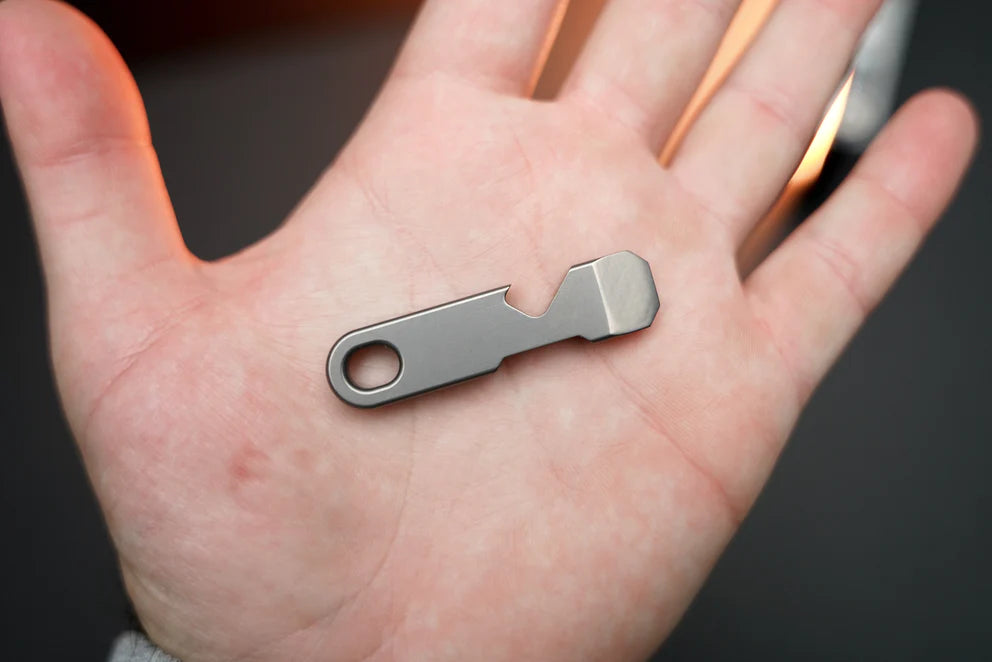 10 Surprising Ways to Use the QuickPry Mini Pry as an EDC Pry Bar Tool
Picture this: You find yourself on a splendid day out in nature, soaking up the sunshine and inhaling the crisp, clean air while wielding your trusty EDC pry bar tool. Your backpack is packed to the brim with everything you need for your adventure, and your ultimate partner in crime. The QuickPry Mini Pry, is there for you every step of the way.
Fashioned from Grade 5 Titanium, this pocket-sized powerhouse is feather-light and fiercely sturdy, making it an essential component of your everyday carry arsenal. Whether you're on a hike or simply running errands, the QuickPry Mini Pry is the go-to gadget for any predicament. So sit back, relax, and let's discover ten unforeseen ways to utilize this versatile EDC prybar tool.
What is an EDC Pry Bar tool?
As we explore the wonders of the QuickPry Mini Pry, let's first shed some light on what exactly an EDC prybar tool is. This nifty little gadget is a compact, versatile hand-held tool perfect for everyday carry. Its multipurpose design makes it ideal for tackling tasks such as cracking open crates, prying off lids, and even extracting stubborn nails.
With an EDC prybar tool in your pocket, you'll be well-equipped to tackle any challenge that comes your way. It's an indispensable accessory for those who seek to be ready for any task or unforeseen circumstances.
Features of the QuickPry Mini Pry
Behold the QuickPry Mini Pry - the unrivaled EDC pry bar tool that reigns supreme in the market. With its Grade 5 Titanium construction, this tool boasts unparalleled strength and resilience, making it the perfect companion for any challenge.
Its ingenious, compact design sets the QuickPry Mini Pry apart from the rest. A mere 4.8mm in thickness and weighing a mere 0.35oz (10g), it's light as a feather and won't weigh you down. No longer will you have to lug around a cumbersome prybar tool. This mini marvel fits snugly into your pocket or backpack.
Not only that, but the QuickPry Mini Pry features a user-friendly keyhole design, allowing you to attach it to your keychain or lanyard easily. So you'll never have to worry about losing or misplacing it - it'll always be right where you need it.
Benefits of the QuickPry Mini Pry
As we wrap up our exploration of the QuickPry Mini Pry's features, let's focus on the endless advantages this remarkable EDC tool can bring to your life.
Versatility is the game's name for the QuickPry Mini Pry. This pocket powerhouse can seamlessly transition from opening letters to cracking open bottles and splitting firewood. With its precise CNC machining and 100% titanium construction, the QuickPry Mini Pry stands out among EDC tools.
The QuickPry Mini Pry doesn't just perform like a champ but also looks like one. This tool will quickly become your go-to for everyday carry, boasting a sleek design and an ergonomic grip that'll keep your hands comfortable even during extended use.
But let's not overlook its dependability. The QuickPry Mini Pry is built to last with no corners cut, ensuring that it's a reliable and high-quality option for all your daily needs. So whether you're on the job, on the trail, or just going about your day-to-day routine, you can trust the QuickPry tool to have your back in any situation.
And finally, there's the icing on the cake: a lifetime warranty from QuickPry that'll give you peace of mind for years to come. With this hassle-free guarantee, you can rest easy knowing that your investment in the QuickPry Mini Pry is fully protected.
10 Surprising Ways to Use the QuickPry Mini Pry as an EDC Pry Bar Tool
Letter Opener
Yes, you read that right. The QuickPry Mini Pry is not just a pry bar tool but can also double as a letter opener. Its slim and sharp edge can easily slice through envelopes, packages, and even cardboard boxes, saving you time and hassle.
Flat Screwdriver
Need to tighten or loosen a screw? No problem. The QuickPry Mini Pry has a flat, sturdy edge that can be used as a flathead screwdriver. In addition, its slim design allows you to access tight spaces and corners, making it the perfect tool for fixing small appliances, electronics, and more.
Bottle Opener
Are you craving a cold one after a long day? The QuickPry Mini Pry has got you covered. Its built-in bottle opener can easily pop open your favorite beverage, making it the ultimate companion for picnics, camping trips, and outdoor adventures.
Can Opener
But wait, there's more. The QuickPry Mini Pry can also be a can opener. Its slim and sharp edge can puncture through the lid of a can, allowing you to open it without a can opener or knife. So whether camping in the wilderness or at home during a power outage, this tool can be handy.
Box Cutter
This EDC pry bar can also double as a box cutter. ItIt'sharp and durable edge that can cut through cardboard boxes, packaging materials, and zip ties.
Pry Bar
Of course, we must remember the QuickPry Mini Pry's primary function as a pry bar tool. Its slim, sturdy design lets you pry open doors, windows, and lids. So whether you're a DIY enthusiast, a handyman, or just need to open a stubborn jar, this tool can make your life easier.
Scraper
Need to remove stickers, labels, or paint? The QuickPry Mini Pry can also be a scraper. Its flat and sharp edge can scrape off the adhesive residue, grime, and ice. It's compact size and lightweight design make it perfect for on-to-go tasks.
Ice Breaker
Speaking of ice, did you know that the QuickPry Mini Pry can also double as an icebreaker? Its sharp, pointed edge can break through the ice, making it the perfect tool for winter emergencies or outdoor activities.
Removing Staples and Tacks
If you have ever tried removing a stubborn staple or tack from a surface, you know how frustrating it can be. However, with the QuickPry Mini Pry, removing nails and tacks has always been challenging.
To remove a staple or tack, simply slide the flat edge of the pry bar tool under the edge of the nail or tack and gently lift it. The sharp edge of the pry bar can easily slide under the staple or tack, providing a quick and easy solution to this pesky problem.
Removing staples and tacks is essential to maintain the surface beneath. Use gentle, controlled movements to ensure you don't scratch or gouge the surface. If you are working with delicate materials, such as paper or fabric, take extra care to avoid tearing or snagging the material.
Tightening and Loosening Screws and Nuts
Unlock a new level of creativity with the QuickPry Mini Pry - this versatile tool is great for prying open boxes and crates and tightening and loosening screws and nuts. It's small size and flat edge make it the perfect match for those pesky little screws and nuts requiring precision handling.
Using the QuickPry Mini Pry as a wrench is a breeze - simply slide the flat edge over the head of the screw or nut and apply gentle pressure to turn it. The pry bar's flat edge provides a sturdy grip that makes tightening or loosening screws and nuts a cinch.
It's essential to exercise caution when using the QuickPry Mini Pry as a wrench, as excessive force can strip the screw or nut, making it even harder to remove. So, be gentle and use controlled pressure.
Furthermore, ensuring that you have the correct size wrench for the job is crucial. Using the wrong size wrench can damage the screw or nut, rendering it impossible to remove. So, check and double-check before you start.
Get Your QuickPry Mini Pry Today!
Upgrade your EDC game with the QuickPry Mini Pry, the ultimate edc pry bar for any task or emergency. Crafted from Grade 5 Titanium for exceptional strength and durability, this tool is ultra-compact and lightweight so it won't add any extra bulk to your daily carry. Plus, with its hassle-free lifetime warranty, you can trust in its quality and reliability for years to come.
Head over to DailyCarryCo now to purchase your own QuickPry Mini Pry and experience the convenience and versatility of this fantastic EDC prybar tool. Plus, with our fast and easy checkout process, you can quickly get your new device in your hands. Take advantage of this opportunity to upgrade your EDC game and make your daily tasks more accessible and more efficient. Order your QuickPry Mini Pry today.