Why an EDC Pry Bar is a Must-Have Tool in Your Everyday Carry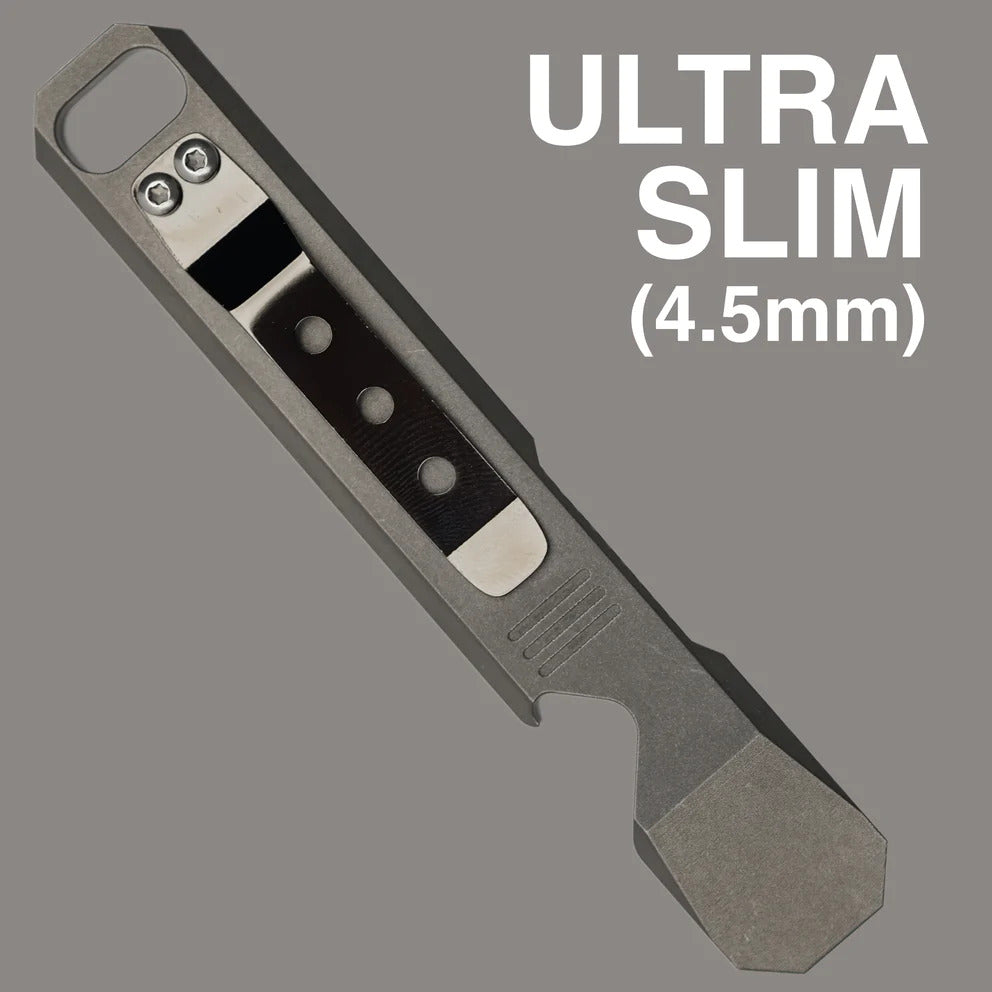 Are you tired of struggling to open a can of beans or prying open a stuck door? Do you wish there was a tool that could make your daily challenges a little easier to handle? Well, look no further than the EDC pry bar! This unassuming little gadget is a game-changer for anyone who wants to simplify their daily tasks. 
And the best part? It's small enough to fit in your pocket, so you can carry it with you wherever you go. In this blog post, we'll explore the many benefits of adding a daily carry pry bar to your everyday carry, as well as some common uses, tips for choosing the right one, and safety guidelines to keep in mind. Get ready to join the ranks of pry bar enthusiasts and discover why this little tool is a must-have for your daily life!
What is an EDC Pry Bar?
It is a nifty, flat metal tool with a curved edge that's perfect for opening or separating things. It may be small in size, but it's a powerhouse when it comes to versatility. From unboxing packages to extracting stubborn nails, this little wonder can handle it all with ease. Constructed with durable materials such as titanium, it lasts longer, and its lightweight and compact design allows you to carry it in your pocket or bag without adding extra weight.
Enthusiasts of everyday carry gear adore these little gadgets, and for good reason. The EDC philosophy is all about having the right tools at your fingertips to deal with whatever comes your way, and the EDC pry bar is a prime example of this in action. Simple, yet effective, it's the go-to tool when you need to pry something open in a pinch.
The Benefits of Carrying an Everyday Carry Pry Bar
When it comes to everyday carry, having the right tools can make all the difference. That's where the slim titanium pry bar EDC implement comes in. This durable and compact tool specifically for daily carry, fabricating it from premium-grade titanium to ensure that it can withstand the wear and tear of everyday use.
Here are some of the benefits of carrying an everyday carry pry bar like the SlimPry:
Super Slim Design
The SlimPry is a keychain tool that is only 4.5mm thick, making it incredibly slim and easy to carry in your pocket or attach to your keychain. This ensures that you always have it on hand when you need it, no matter where you are.
Comfortable to Use
Unlike many other daily carry pry bars on the market, the SlimPry is designed to be comfortable to use. Its sleek and sexy design is both functional and ergonomic, so you won't have to sacrifice comfort for utility.
Precision CNC Machining
The manufacturer of the SlimPry uses precision CNC machining to create this pocket tool from a solid bar of Grade 5 Titanium. This ensures that the tool is made entirely of titanium and is of the highest quality possible.
Multi-Use
The SlimPry is not just a pry bar, but also a letter opener, flat screwdriver, and more. It's a versatile tool that you can use in a variety of situations, whether you're at home, at work, or out in the great outdoors.
Everyday Carry Clip
The SlimPry comes with an everyday carry clip that makes it easy to carry with you wherever you go. The clip is designed to be unobtrusive, so you won't even notice it's there until you need it.
Lifetime Warranty
Finally, the SlimPry comes with a lifetime warranty. This ensures that you can use your tool with confidence, knowing that it will last for years to come. And if anything ever goes wrong with your SlimPry, the manufacturer will stand behind their product and replace it hassle-free.
Common Uses for an Everyday Carry Pry Bar
The SlimPry EDC Pry Bar is a versatile tool that can be used for a wide range of everyday carry needs. Some common uses can include:
Opening packages and letters
With its slim profile and sturdy design, the SlimPry pry bar is perfect for quickly and easily opening packages and letters.
Tightening and loosening screws
The pry bar can be used as a flat screwdriver, making it an ideal tool for tightening and loosening screws around the house or office.
Camping and outdoor activities
The SlimPry pry bar is durable and lightweight, making it an excellent tool for camping and outdoor activities. Use it to split firewood, pry open cans, and more.
Cleaning and scraping
The slim profile of the pry bar makes it easy to clean and scrape hard-to-reach areas.
Choosing the Right Everyday Carry Pry Bar for You
When choosing the right EDC Pry Bar for you, it is important to consider factors such as size, weight, and durability. Here are some tips for choosing the right one:
Consider the size and weight of the pry bar to ensure that it is comfortable to carry in your everyday carry kit.

To ensure longevity, search for a pry bar made from durable materials like titanium. We prioritize durability during the manufacturing process to ensure the pry bar will last for years to come.
To ensure an optimal and long-lasting pry bar, prioritize its versatility by choosing a shape carefully considered by manufacturers during the manufacturing process and made from durable materials like titanium.

Look for a pry bar with a comfortable grip to ensure that you can use it for extended periods without experiencing discomfort.

Choose a pry bar with an everyday carry clip to ensure that it is easy to carry with you wherever you go.
How to Use a Pry Bar Safely
Always wear gloves and eye protection when using an EDC Pry Bar to avoid injury.

Use the pry bar only for its intended purpose to avoid damaging the tool or causing injury.

Never pry in the direction of your body to avoid injury in case the pry bar slips.

Use the pry bar with care and precision to avoid damaging the item you are working on.

Store the pry bar in a safe place when not in use to avoid accidental injury.
Frequently Asked Questions about EDC Pry Bars
What is an Everyday Carry Pry Bar?
An everyday carry pry bar is a small, handheld tool used for a variety of tasks such as opening packages, removing nails or screws, prying open doors, and more.
What is the SlimPry Pry Bar made of?
The SlimPry EDC Pry Bar is made of Grade 5 Titanium and is precision CNC machined from a solid bar.
Can I carry the SlimPry EDC Pry Bar on my keychain?
Yes, the SlimPry EDC Pry Bar is designed to be carried on your keychain with its everyday carry clip.
Is the SlimPry EDC Pry Bar covered by a warranty?
Yes, the SlimPry EDC Pry Bar comes with a hassle-free lifetime warranty from the manufacturer.
How can I order a SlimPry EDC Pry Bar?
You can obtain the SlimPry EDC PryBar by placing an order here, and we will handle everything for you.