What are the Top 10 Essential Everyday Carry Tools Everyone Should Have?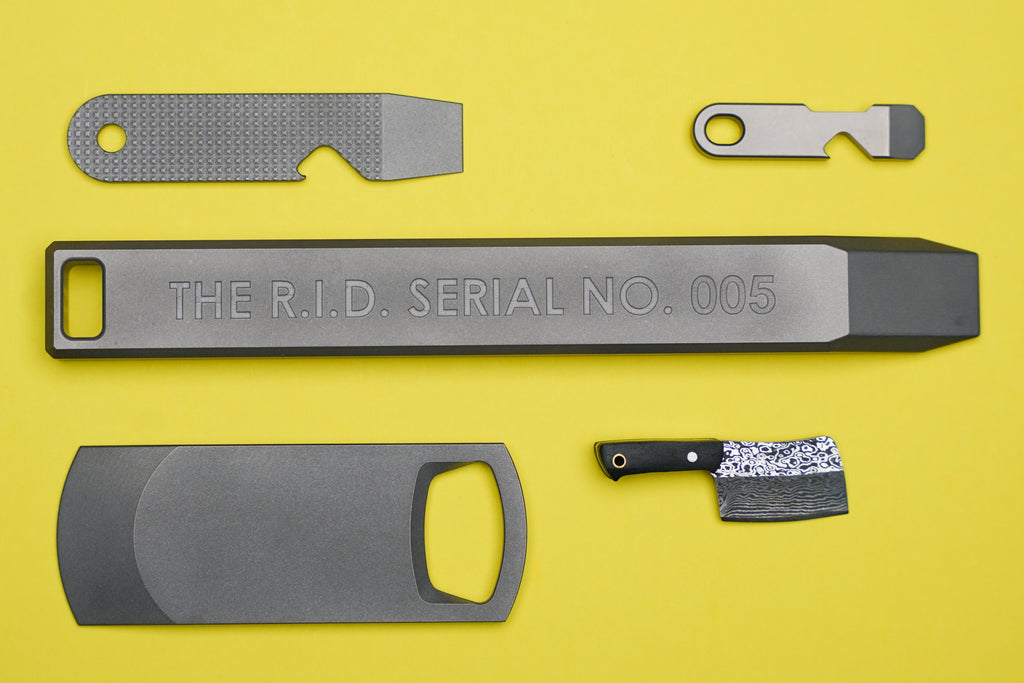 Having the right tools at your fingertips is crucial for everyday carry and being prepared for any situation. This blog post will explore the top 10 essential everyday carry tools. Sleek pry bars and compact titanium whistles are available and stylish additions to your daily arsenal.
What are the Top 10 Essential Everyday Carry Tools Everyone Should Have?
Envision a marvelously slender and elegant device endowed with the power to conquer many tasks. Enter the realm of HandyPry, the unrivaled companion for your daily undertakings. Crafted entirely from the finest titanium, this extraordinary prybar possesses unmatched strength and an edge that cuts like a razor.
Its exquisitely milled countenance enhances its visual allure and delivers a superb grip. Compact yet mighty, measuring a mere 85mm in length, 19mm in width, and 3mm in thickness, HandyPry stands as a formidable force, ever prepared to assist in any conceivable scenario.
Introducing the KeyPry Slim Pry–the ultimate sidekick for your keychain, combining convenience and functionality in a sleek package. With a thickness measuring a mere 3mm, this ultra-compact tool is purpose-built for seamless everyday carry. So whether you face a stubbornly sealed paint can, need to pry open a jammed object, or take on an array of daily tasks, the KeyPry Slim Pry is up to the challenge.
Gone are the days of clunky, tactical-looking models; this pry bar stands out with its ergonomic design that prioritizes your comfort. Meticulously crafted from a single bar of Grade 5 Titanium, it boasts unparalleled strength and durability. Its feather-light composition and resistance to rust and wear guarantee a dependable companion for all your daily endeavors.
Introducing the remarkable SlimPry – your ultimate companion for compact and sturdy EDC prybar tools. Don't bother searching anymore; this little gem has got you covered! Despite its featherlight design, the SlimPry boasts exceptional strength, guaranteeing it can withstand the rigors of daily use without breaking a sweat.
Its sleek and streamlined appearance makes it a breeze to carry around daily, ensuring you're always primed and ready for whatever comes your way. Equipped with a versatile pry tip, this mighty tool can effortlessly unseal boxes, remove pesky staples, and take on light prying tasks with finesse. With the trusty SlimPry by your side, you'll be fully equipped to conquer any challenge that crosses your path.
TiWhistle Titanium Emergency Whistle
That's where the TiWhistle Titanium Emergency Whistle shines. It produces an ear-piercing sound of 120 decibels, ensuring your alarm reaches the farthest ears. In addition, it's sleek, small, and discreet, effortlessly fitting into your pocket without any added bulk.
It's made from 100% Grade 5 Titanium, so you can count on it to stand the test of time and endure any challenging situation. So whether exploring the great outdoors, casting a line for fishing, setting up camp, or trekking with a backpack, this waterproof whistle will always be by your side, keeping you prepared and giving you a comforting sense of safety.
MiPick is the world's tiniest and longest-lasting toothpick. Made from Grade 5 Titanium, it possesses durability and longevity.
The custom-designed casing makes it the most concealable toothpick on the market.. At just 22mm long and 1.5g light, MiPick is the perfect tool to have on hand when you're out and about. Whether you need to remove pesky food particles or freshen up your oral hygiene, this little toothpick covers you.
The QuickPry Mini Pry effortlessly outshines its competitors. Constructing this little marvel with Grade 5 Titanium gives it remarkable strength and resilience. With its smooth contours and comfortable grip, the QuickPry Mini Pry is always up to the challenge. Moreover, with its worry-free lifetime warranty, you can rest assured that its quality and dependability will serve you faithfully for decades.
PocketPal Titanium PryBar
Bid farewell to those pesky moments of slipping and struggling while attempting to crack open bottles, for behold the magnificent PocketPal Titanium PryBar! This remarkable gadget boasts an immensely gratifying ultra-wide mouth bottle opener, rendering it the epitome of efficiency in bottle liberation.
Its slender physique grants you the convenience of effortless portability, fitting snugly within your back or front pocket, ensuring you remain forever prepared for a delightful quenching of your thirst. Furthermore, its front end sports a gracefully curved, wide pry, permitting an array of prying endeavors. Rest assured, dear friend, PocketPal is practical and a visually captivating catalyst for fascinating conversations.
TiPick - Titanium Nano Toothpick
Are you seeking the perfect toothpick embodying strength, resilience, and flair? The TiPick Titanium Nano Toothpick is crafted from ultra-thin titanium. Its resistance to bending and breaking guarantees a toothpick will stand the test of time.
Not only does it possess incredible functionality, but its sleek design also brings a touch of contemporary elegance to your everyday carry essentials. So whether savoring a meal on the move or seeking a swift remedy, this petite powerhouse will leave a lasting impression.
The RID - Ridiculous Titanium Pry Bar
The RID - Ridiculous Titanium Pry Bar, a true embodiment of awesomeness, limited to 100 pieces. Picture this: a stunning creation crafted entirely from pure titanium, boasting a hefty thickness of 12mm, a sleek length of 8 inches, and a width of 1 inch. This great pry bar effortlessly outshines its counterparts in every way.
Unparalleled in strength and unmatched in durability, it fearlessly takes on the most demanding tasks, whether within the confines of a workshop or amidst daring outdoor escapades. Prepare to be admired as you wield the RID - an exclusive masterpiece. Its captivating design, coupled with its rarity, will undoubtedly leave your friends green with envy.
MagBlade - Magnetic Titanium Knife
Introducing the remarkable MagBlade - the ultimate everyday carry knife that will awaken you! Weighing a mere 95 grams, this Grade 5 Titanium wonder is as light as a feather and effortlessly portable. In addition, its magnetic closure guarantees safety when shut tight and swift access when opened.
Crafted with a razor-sharp blade forged from M390 steel, it delivers unparalleled cutting precision and long-lasting strength. Whether tackling a quick slice or a challenging project, the MagBlade's compact design, measuring a mere 100mm when closed and an impressive 170mm when unleashed, makes it the ideal companion for all your on-the-go cutting needs.
Get Your Essential Tools Today!
At DailyCarryCo, we understand the importance of having reliable and high-quality everyday carry essentials. Therefore, we offer many essential tools, including the HandyPry, KeyPry Slim Pry, SlimPry EDC PryBar, TiWhistle, MiPick, QuickPry Mini Pry, PocketPal Titanium PryBar, TiPick Nano Toothpick, RID Titanium Pry Bar, MagBlade Magnetic Titanium Knife, and more! Each tool enhances your daily life, providing convenience, functionality, and durability.
Why settle for mediocre tools when you can have the best? Visit our website, DailyCarryCo, and explore our top-notch everyday carry tools collection. With our easy-to-use online store, you can browse through our products and view captivating images. We pride ourselves on offering only the highest quality tools crafted from Grade 5 Titanium.
But that's not all! When you shop at DailyCarryCo, you'll enjoy a hassle-free buying experience and exceptional customer service. In addition, we offer secure payment options and fast shipping, ensuring that your essential tools arrive at your doorstep in no time.