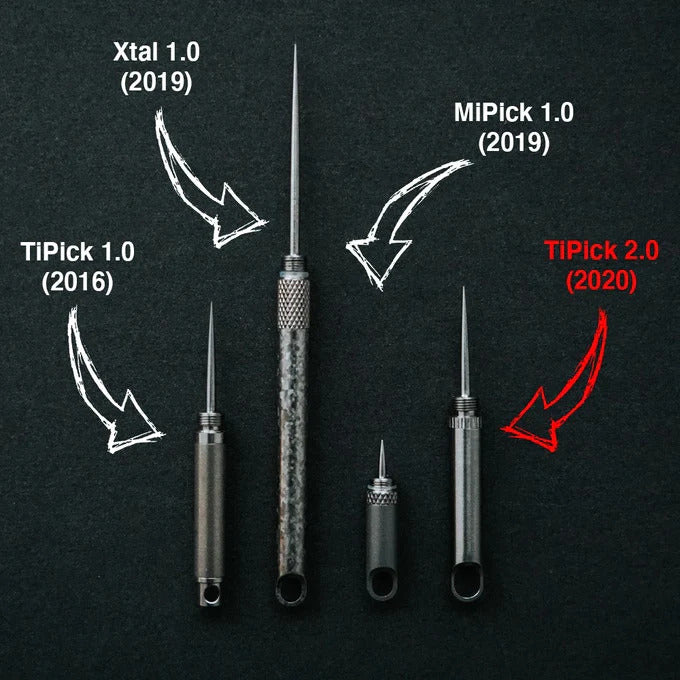 What are the Best Everyday Carry Tools?
In today's world, having the right tools at your disposal can make all the difference. Whether you're exploring the great outdoors, working on a project, or simply going about your day. There are certain everyday carry tools that everyone should have in their arsenal, and in this article, we will take a closer look at some of the best must-have everyday carry tools for everyone.
Must-Have Everyday Carry Tools for Everyone
When it comes to everyday carry tools, there are a few items that everyone should have. These tools are versatile, durable, and reliable, and they can come in handy in a variety of situations. Let's take a closer look at some of the best must-have everyday carry tools for everyone.
MagBlade - Magnetic Titanium Knife
This MagBlade Magnetic Titanium Knife has a locking system that's powered by magnets, which helps to keep the blade securely in place when it's not being used. Additionally, the knife has been crafted from titanium, a material that's known for being lightweight and exceptionally durable, and has been machined with precision to ensure it performs to the highest standard.
The MagBlade not only excels as an everyday tool but also features a magnetic butterfly hinge that ensures a seamless opening experience. Its polished blade adds a touch of sophistication and allows for easy maintenance over the years.
Thanks to its compact size and lightweight construction, weighing just 95 grams with a closed length of 100mm, a width of 20mm, and a thickness of 11mm, the MagBlade is easy to carry wherever you go. And with a one-year warranty, you can feel assured that you're investing in a reliable and high-quality knife that's both practical and unique.
TiSlide - Titanium Gravity Knife
The TiSlide Titanium Gravity Knife is not just any ordinary knife. Cutting fruit, opening packages, removing splinters, and even cutting hair are all possible uses for this versatile titanium pocket knife. The knife has a gravity hinge and opening mechanism for a satisfying and easy opening experience. The blade's strength and longevity are guaranteed by its construction from M390 blade material and Grade 5 titanium body.
The TiSlide weighs only 107 grams, making it lightweight and convenient to carry along. It is also easily maintainable for lifetime use. It measures 107mm in length when closed and 172mm when open, with a 20mm width and an 11mm thickness.
TiPick - Titanium Nano Toothpick
TiPick - the titanium nano toothpick that is changing the game of dental hygiene. Boasting unparalleled strength and durability, TiPick is ultra-thin and long-lasting, surpassing traditional wooden toothpicks.
Nanotechnology is responsible for TiPick's superior performance, making it highly resistant to bending and breaking. Its sleek and modern design adds a touch of elegance to your dental care routine. Made of Grade 5 titanium, TiPick is a sustainable and hygienic alternative to traditional wooden toothpicks. It can be easily cleaned and reused, making it an eco-friendly choice.
Titanium Scalpel
Crafted from the finest Grade 5 titanium, the 5skal Titanium Scalpel is the epitome of precision instruments. This tool is 95mm in length, featherweight, tipping the scales at just 10 grams.
The scalpel blades employed by this magnificent tool are the popular #11 scalpel blades. These blades are known for their exceptional precision, enabling you to achieve perfection in all your cutting endeavors.
The Titanium Scalpel boasts a bead-blasted titanium finish, exuding a contemporary and elegant aura. Its sleek appearance is indicative of the meticulous attention to detail that went into its design.
A lifetime warranty accompanies the Titanium Scalpel, assuring you of its reliability for many years to come. This incomparable tool is the ultimate companion for all your cutting needs.
PT1 - Leather Wallet - Minimalist Wallet
Introducing the PT1 - a sleek and uncluttered front pocket wallet designed to accommodate up to 7 cards and cash with ease. Meticulously handcrafted from exquisite soft genuine leather, this wallet boasts a top-notch finish that's hard to miss.
The PT1's military-grade button hardware and gratifying elastic pull tab make accessing your essentials a breeze. Whether you're running errands or commuting to work, you'll be pleased to have this wallet in your pocket.
But wait, there's more! The PT1 is built to last, and we mean it. With a lifetime guarantee, you can enjoy the functionality and style of this wallet for years to come.
MiPick
The MiPick is the world's smallest and longest-lasting toothpick, with a custom-designed external casing that makes it the smallest and most concealable reusable toothpick on the market. Precision machined from a solid billet of Grade 5 titanium, the MiPick is stronger and longer-lasting than traditional toothpicks.
With a matte titanium or crystal silver finish and a length of just 22mm (or 30mm when opened), the MiPick is a sleek and stylish accessory for anyone who wants a high-quality toothpick on the go. And with a weight of just 1.5g, you'll hardly notice it's there.
SlimPry EDC PryBar
The SlimPry EDC PryBar is the ultimate keychain tool, with a super slim design that makes it the perfect daily companion for everyday carry. At just 4.5mm thick, this titanium prybar is comfortable to use and extremely functional.
Whether you need to pry open a can, tighten a screw, or just need a handy tool for everyday use, the SlimPry EDC PryBar is the perfect choice. Made from high-quality Grade 5 titanium, this tool is built to last and is a must-have for anyone who wants a reliable and versatile keychain tool.
KeyPry Slim Pry
Its slim design, measuring just 3mm thick, makes it a breeze to carry in your pocket or attach to your keychain. Don't let its diminutive size fool you, this powerhouse is capable of tackling a multitude of tasks, from opening paint cans to splitting firewood.
What sets the KeyPry apart from its competitors is its ergonomic design. Say goodbye to uncomfortable grips and say hello to a sleek and easy-to-hold design. The KeyPry's construction boasts 100% Grade 5 Titanium, ensuring its durability and reliability for years to come.
Not only is the KeyPry built to last, but it's also resistant to rust and wear. It's the perfect choice for everyday use and can withstand even the toughest wear and tear. The keychain hole also allows for easy accessibility, ensuring that you'll always have this versatile tool on hand when you need it most.
How to Choose the Right Everyday Carry Tools for Your Needs
Assessing Your Needs and Lifestyle
When choosing an EDC tool, it's important to consider your needs and lifestyle. Are you someone who spends a lot of time outdoors? Do you need a tool for work or for DIY projects around the house? By assessing your needs, you can choose an EDC tool that will be useful for your specific situation.
Considerations When Choosing Everyday Carry Tools
There are several factors to consider when choosing an EDC tool, including size, weight, and functionality. You want a tool that is lightweight and easy to carry, but also one that is versatile enough to handle a variety of tasks. You should also consider the materials used in the construction of the tool, as well as its durability and reliability.
Budget-Friendly Options for Everyday Carry Tools
While there are many high-end EDC tools on the market, there are also plenty of budget-friendly options available. When shopping for an EDC tool, don't be afraid to look for deals and discounts. You can often find high-quality tools at a fraction of the cost if you're willing to do a bit of research.
Get Your Hands on These Must-Have Everyday Carry Tools Today!
Now that you know the benefits of adding the best everyday carry tools  to your daily carry, you may be wondering where you can purchase it. One great place to start is DailyCarryCo, an online store specializing in everyday carry items.
At DailyCarryCo., you'll find a wide variety of high-quality EDC tools, including knives, multi-tools, and more. Our selection of products is carefully curated to ensure that you have access to only the best and most reliable gear.
In addition to our top-notch products, DailyCarryCo. offers excellent customer service and fast shipping. We also have a price match guarantee, so you can be sure you're getting the best possible deal on your purchase.
To purchase the everyday carry tools, simply visit the DailyCarryCo. website and add it to your cart. With our easy-to-use checkout process and secure payment options, you can have your new EDC tool on its way to you in no time.