MagBlade vs. Traditional Gravity Knives: Why Magnetic Technology Makes a Difference in a Gravity Knife for Sale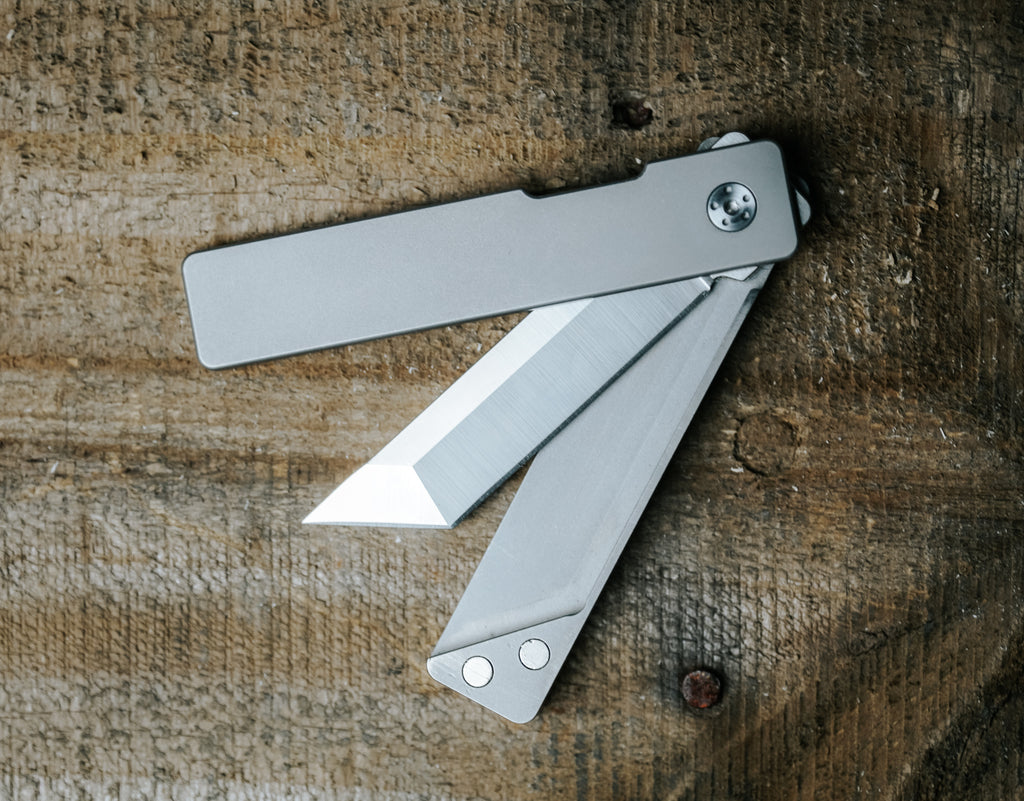 Looking for a gravity knife for sale that blends cutting-edge technology with striking style? Introducing the MagBlade magnetic titanium knife - a mesmerizing fusion of form and function that redefines the art of cutting. The MagBlade is not just a knife but a statement of elegance and sophistication.
What is a Gravity Knife?
Before diving into magnetic technology's benefits, let's first understand a gravity knife. A gravity knife is a knife with a blade held shut by a latch. When the latch is released, the edge falls out. Traditional gravity knives have a button or lever that releases the latch, causing the blade to swing.
The problem with Traditional Gravity Knives
While gravity knives can be helpful for outdoor activities and everyday carry, they have a few drawbacks. Firstly, they are associated with safety concerns as they can accidentally open in a pocket or bag, leading to injuries. Secondly, they are often subject to legal restrictions due to their potential use as a weapon. Thirdly, they can be inconvenient to use as they require both hands to operate.
How the MagBlade Differs From Traditional Gravity Knives
The MagBlade magnetic titanium knife offers a solution to the problems posed by traditional gravity knives. The MagBlade features a magnetic locking mechanism that secures the blade in place when it is not in use. This makes the knife safer and easier to carry with one hand.
Benefits of Using Magnetic Technology
Magnetic technology offers several advantages over traditional latch-based systems. First, it is reliable and durable, not subject to wear and time. Secondly, it is convenient to use as it allows for one-handed operation. Lastly, it adds a touch of innovation and modernity to the knife design, making it stand out from other knives in your collection.
The Unique Features of the MagBlade Magnetic Titanium Knife
Introducing the one-of-a-kind MagBlade knife, a cut above the rest. What makes this knife genuinely remarkable are the distinctive features that set it apart from other available knives. At first glance, you'll notice the magnetic locking mechanism that keeps the blade securely in place when not in use. It's a reliable and robust mechanism perfect for any outdoor activity or everyday carry. And to add to the experience, the knife features a magnetic butterfly hinge that produces satisfying clicks when opening and closing.
But the MagBlade's unique features don't end there. Its polished blade is a sight - sharp, strong, and built to last. Made from M390 steel, a high-performance material known for its exceptional edge retention and corrosion resistance, this blade is housed in a precision-machined Grade 5 titanium body that's both durable and lightweight. Weighing only 95 grams, it's an ideal everyday carry knife.
Another standout feature of the MagBlade is its serviceability. The knife is designed to be easily maintained, with parts that can be replaced to ensure lifelong use. And while it comes with a one-year warranty, hold onto it, as losing it won't be covered. So with the MagBlade, you're not just getting a knife - you're getting an exceptional cutting tool built to last a lifetime.
Benefits of Using the MagBlade Magnetic Titanium Knife
Introducing the MagBlade magnetic titanium knife - a masterfully designed tool that brings simplicity and convenience to your everyday life making it the best gravity knife for sale in the market. Featuring an intuitive magnetic locking mechanism, the blade offers effortless one-handed operation, making it an ideal choice for outdoor enthusiasts and urbanites alike. Say goodbye to clumsy and unsafe gravity knives; the MagBlade ensures the blade stays securely locked, preventing any unexpected mishaps.
But the MagBlade magnetic titanium knife is more than just a safety-focused gadget. It's a versatile and multifunctional instrument that is built to last. Thanks to its durable titanium body and razor-sharp blade, the knife can handle many tasks, from cutting through thick slabs of meat to opening packages or carving wood. It's a go-to tool for anyone who values practicality and reliability.
Lastly, the MagBlade magnetic titanium knife also boasts a sophisticated and modern design that sets it apart from the competition. Its polished blade and precisely machined grade 5 titanium body exude elegance and style, making it a must-have for anyone who appreciates the beauty of the functional design. So whether you're heading out for a camping trip or need a reliable tool for your everyday life, the MagBlade is the perfect choice.
MagBlade Magnetic Titanium Knife: Uses and Applications
The MagBlade magnetic titanium knife is a highly versatile instrument for its numerous purposes. Its sharp and robust blade makes it the perfect companion for outdoor enthusiasts who engage in camping, hunting, or fishing. It can easily make quick work of meat, rope, cans, and even bottles. It also excels in culinary as it can easily glide through vegetables and meat.
As for those who require a dependable everyday tool, the MagBlade magnetic titanium knife is a phenomenal option. Its compact size and single-handed use make it the go-to choice for various scenarios, such as cutting through packages, fabric, or rope. Furthermore, in an emergency, the MagBlade is a lifesaver; it can slice through seatbelts or shatter windows, making it an indispensable tool in an accident.
How to Maintain and Care for Your MagBlade Magnetic Titanium Knife
To ensure that your MagBlade magnetic titanium knife stays in good condition, you should follow these maintenance and care tips:
Cleaning and oiling
After use, clean the blade with warm soapy water and dry it thoroughly. Then, apply a small amount of oil to the edge to prevent rusting.
Sharpening
To maintain the blade's sharpness, use a sharpening stone or honing steel to sharpen the blade regularly.
Storage
Store your MagBlade magnetic titanium knife in a dry place and keep it away from other metal objects to prevent rusting.
How To Choose The Best MagBlade Magnetic Titanium Knife For You
When choosing a MagBlade magnetic titanium knife, there are several factors to consider, including:
Considerations when selecting a knife
Contemplate the purpose for which the knife shall serve, the appropriate dimensions of the blade, and the financial constraints you must consider.
Price and affordability
Indulging in the MagBlade magnetic titanium knife may require some financial commitment, yet it's a wise choice for those seeking a trustworthy and resilient instrument.
Personal style and preferences
Let your unique taste and inclination guide your selection of a knife. With the MagBlade magnetic titanium knife, you can pick from an array of finishes that mirror your personality, from the sleek polished titanium to the textured sandblasted titanium.
Get the Best Gravity Knife for Sale at DailyCarryCo
If you're looking for a gravity knife for sale that offers several benefits over traditional models, consider the MagBlade magnetic titanium knife. Its magnetic locking mechanism provides convenience and safety, while its durable and sharp blade makes it a versatile and multi-purpose tool. Its stylish and modern design is sure to impress, and it is a must-have for anyone who appreciates high-quality tools. Order yours at DailyCarryCo and browse for more EDC products!