What Makes our Leather Minimalist Wallet The Best Minimalist Wallet?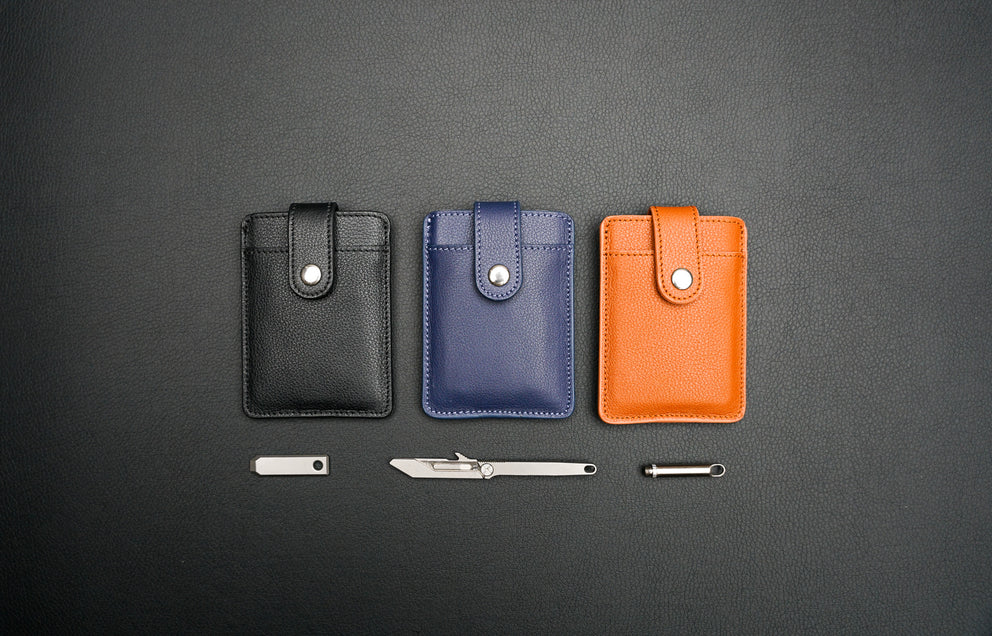 Leather minimalist wallets are all the rage these days, and with good reason. They're sleek, stylish, and incredibly functional. But with so many options on the market, how do you know which one to choose? Allow us to introduce you to the PT1 EDC Leather Wallet – a simple, elegant front pocket wallet that is designed to meet all of your needs. In this post, we'll be taking a closer look at what makes our leather minimalist wallet the best option out there.
Features of the PT1 Leather Minimalest Wallet
Fits up to 7 cards + cash:
The PT1 leather minimalist wallet presents an excellent option for those who favor a more streamlined approach to traveling, eschewing the inconvenience of a bulky wallet. Despite its diminutive and lightweight construction, this understated wallet has the capacity to store up to 7 cards and cash, rendering it an optimal selection for people who wish to transport only the bare necessities without overstuffing their pockets.
Beautiful Soft Genuine Leather:
The PT1 leather minimalist wallet boasts a remarkable attribute in the form of its exquisite, supple genuine leather composition. Aside from its stunning aesthetic appeal and luxurious texture, this material is exceptionally resilient, ensuring that your wallet will improve with time, gradually acquiring a captivating patina.
Meticulously Handmade:
PT1 upholds the belief that nothing is more important than paying close attention to the finer points. This is the reason why our skilled artisans painstakingly handcraft each and every wallet with great pride in their work. From the initial cutting of the leather to the precise stitching and finishing, every stage of the production process is executed with the utmost care and accuracy. This guarantees that your wallet will not only possess an impressive appearance but will also endure the test of time for years to come.
No Hassle Lifetime Guarantee:
We stand behind our products and are confident in their quality. That's why we offer a no-hassle lifetime guarantee on all of our wallets. If at any point your PT1 wallet doesn't live up to your expectations, simply let us know, and we'll make it right.
Built to Last:
The PT1 is no ordinary wallet. Its purposeful design ensures its endurance and longevity. Constructed with genuine leather and premium hardware, this wallet can endure rough handling and retain its impressive appearance. Whether you subject your wallets to a lot of wear and tear or simply desire an accessory that can withstand the daily grind, the PT1 is an excellent choice that will cater to your needs.
Satisfying Elastic Pull Tab:
Opening your wallet shouldn't be a hassle, and with the PT1, it's not. The satisfying elastic pull tab makes accessing your cards and cash quick and easy. Plus, it's fun to use!
Military Grade Button Hardware:
We didn't skimp on the hardware with the PT1. The military-grade button closure ensures that your wallet stays securely closed at all times. Plus, it adds an extra touch of style to an already stylish wallet.
Available in Blue, Brown, and Black:
Finally, we know that style is personal, which is why the PT1 is available in three timeless colors – blue, brown, and black. Whether you're looking for something classic or want to make a statement, there's a PT1 for you.
More: What are the Best Everyday Carry Tools?
Why the PT1 Wallet is the Best Minimalist Wallet
When it comes to choosing a minimalist wallet, there are several factors to consider. The PT1 Wallet is the best minimalist wallet on the market for a number of reasons.
Durability
One of the key features of the PT1 Wallet is its durability. Made from high-quality genuine leather and military-grade button hardware, this wallet is built to withstand daily wear and tear. It's a reliable choice that will last for years to come.
Quality handiwork
Each PT1 Wallet is meticulously handmade with great attention to detail. This ensures that every wallet meets the highest standards of quality.
Style
The PT1 Wallet has a sleek and stylish design that can be paired with any outfit. It's a minimalist accessory that will add a touch of sophistication to your everyday look.
A wallet that fits any style
The PT1 Wallet is available in three classic colors - blue, brown, and black - making it easy to find a wallet that fits your personal style.
A variety of color options
In addition to the classic colors, the PT1 Wallet also comes in a range of bold and unique colors. This variety ensures that you can find a wallet that truly reflects your personal style.
Practicality
The PT1 Wallet is not only stylish but also practical. It's designed to be a front pocket wallet, making it easy to access your cards and cash on the go. Plus, its slim profile ensures that it won't take up unnecessary space in your pocket or bag.
The convenience of a front pocket wallet
A front pocket wallet is a practical choice for those who want to keep their essential items close at hand. With the PT1 Wallet, you won't have to worry about rummaging through a bulky wallet to find what you need.
Secure storage for essential items
The PT1 Wallet offers secure storage for your essential items. The elastic pull tab ensures that your cards and cash are held securely in place while still allowing for easy access.
Easy access to cards and cash
The PT1 Wallet's front pocket design makes it easy to access your cards and cash on the go. This practical feature ensures that you won't have to fumble with a bulky wallet while you're out and about.
Why a Minimalist Wallet is a Must-Have
There are numerous reasons why we advocate for the adoption of a minimalist wallet. Firstly, it aids in decluttering your life, enabling you to streamline your daily routine and decrease stress. With a minimalist wallet, you carry only the essentials, thereby minimizing the chances of misplacing or losing important items. Additionally, it promotes organization and concentration on the things that are truly significant.
Why the PT1 Wallet is the Best Value
The PT1 Wallet offers exceptional value for its price. Firstly, it's competitively priced, so you don't have to break the bank to own a quality minimalist wallet. Additionally, it's built to last a lifetime, so you won't have to replace it any time soon. And with a lifetime guarantee, you can have peace of mind knowing that you're making a wise investment.
The PT1 Wallet: The Perfect Gift
If you're looking for a thoughtful and practical gift, the PT1 Wallet is an excellent option. It's ideal for any occasion, from birthdays to graduations, and it's a gift that keeps on giving. With its high-quality materials and meticulous craftsmanship, you can be sure that your loved one will enjoy it for years to come.
Conclusion
In conclusion, the PT1 leather minimalist wallet is the best wallet on the market, thanks to its impressive features and benefits. With its beautiful soft genuine leather, meticulous handiwork, and lifetime guarantee, it offers exceptional value for its price. And with its practical front pocket design, you can easily access your cards and cash on the go while keeping them secure. So why not make the switch to a minimalist wallet today and enjoy a simpler, more organized life? Place your order here.