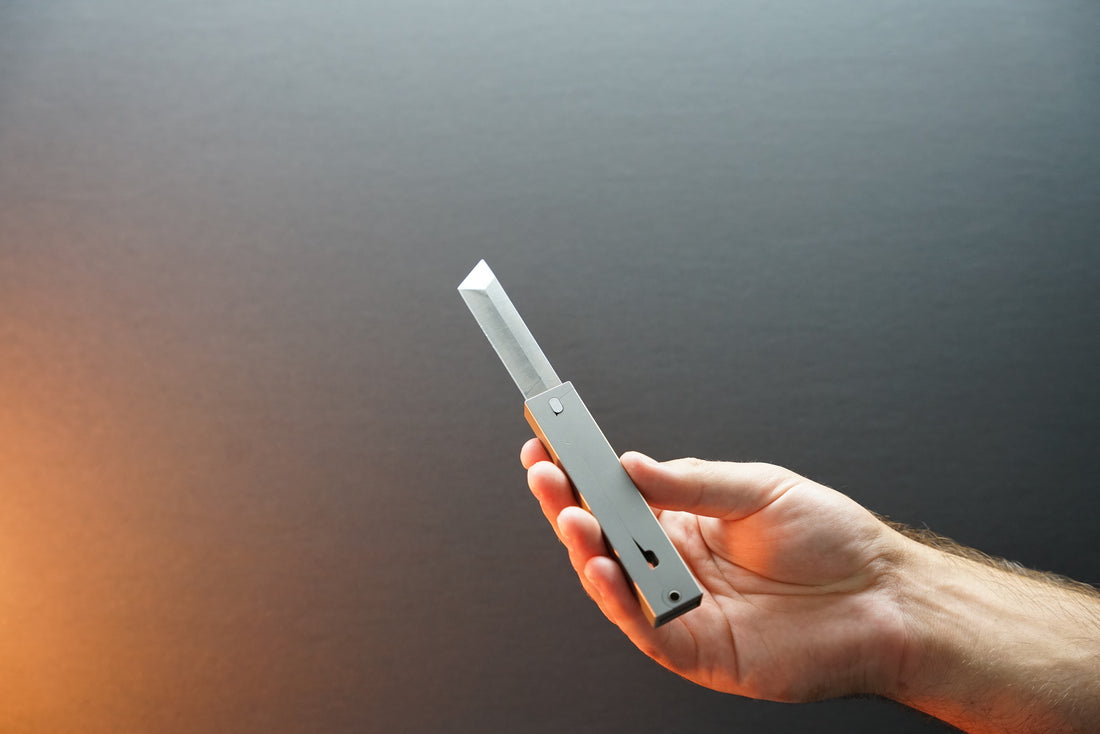 TiSlide: The Next Generation Gravity Knife For Sale You Need to Know About
Imagine a world where finding the perfect gravity knife for sale is as easy as a few clicks of a button. No more settling for subpar options or compromising on quality. Well, guess what? Your search ends here. We proudly introduce TiSlide, the next generation gravity knife that's revolutionizing the way you experience the world of knives. With its super unique features, unmatched durability, and stunning design, TiSlide is the gravity knife you've been dreaming of. Get ready to explore a whole new level of cutting excellence.
The Story Behind TiSlide
Once upon a time, a titanium gravity knife was designed exclusively for parachutists to cut off caught lines. It was super badass, no wimps, complainers, or sissies allowed. So, inspired by its incredible functionality and rugged charm, we created our version: TiSlide. We put our heart and soul into this project, dedicating 18 months to its design and development. And let us tell you; the result is nothing short of gorgeous.
What are the Super Unique Features of the Best Gravity Knife for Sale?
Gravity Opening Mech
Get ready for a knife-opening experience like no other. With TiSlide's gravity opening mechanism, you'll feel the satisfying flick of the blade gliding effortlessly into action. It's so smooth you'll find yourself opening and closing it just for the sheer joy of it.
Gravity Hinge
TiSlide takes opening knives to a whole new level with its gravity hinge. Not only does it enhance the overall opening experience, but it also adds an extra touch of flair. So prepare to impress your friends with your gravity-defying knife skills.
Gorgeous Polished Blade
Looks matter, and TiSlide knows it. Its polished blade is not only aesthetically pleasing but also razor-sharp, ready to tackle any cutting task that comes your way. Whether slicing through ropes or opening packages, TiSlide's blade will make you feel like a knife-wielding superhero.
Easily Serviceable For Lifelong Use
TiSlide is not just a one-hit wonder. It's built to last a lifetime. We've designed it to be easily serviceable so you can enjoy it for years. No more disposable knives that end up in the trash. TiSlide is here to stay.
Extremely Durable Titanium Body
We've chosen the finest grade 5 titanium for TiSlide's body, making it tough as nails. It can withstand the harshest environments and still look brand new. So whether you're exploring the great outdoors or simply conquering your daily tasks, TiSlide will be your trusty companion.
Amazing M390 Blade Material
TiSlide doesn't settle for anything less than extraordinary. That's why we've equipped it with the impressive M390 blade material. This high-performance steel offers exceptional edge retention and corrosion resistance, ensuring your TiSlide stays sharp and reliable.
The Many Uses of the Best Gravity Knife for Sale–TiSlide
Now, let's discuss how this best gravity knife for sale can elevate your everyday life. Sure, it's a knife, but it's also a multitasking marvel that can handle much more than just cutting stuff. Here are just a few examples:
Are you tired of paper cuts and struggling to open envelopes? TiSlide's sharp blade effortlessly glides through paper, making mail opening a breeze. So say goodbye to frustrating moments and hello to hassle-free correspondence.
Adventurers and outdoor enthusiasts will appreciate TiSlide's ability to navigate tight spots. Whether exploring narrow caves or deep crevasses, TiSlide's slim profile and precision cutting make it the perfect companion for all your spelunking adventures.
With the rise of online shopping, unboxing has become a regular part of our lives. TiSlide ensures that opening packages is no longer a frustrating ordeal. Its sharp blade easily cuts through tape and cardboard, allowing you to unveil your latest online purchase with ease and satisfaction.
Need a refreshing snack on the go? This gravity knife for sale is here to save the day. Its sharp blade effortlessly slices through fruits like apples, oranges, and melons, making it convenient for picnics, hikes, or simply satisfying your midday cravings.
Splinters can be incredibly painful and frustrating to remove. TiSlide's precision cutting lets you quickly and safely remove fragments from your skin, saving you from the dreaded needle and tweezers routine.
Picture this: You're in the middle of an important event and notice a stray hair ruining your perfectly styled look. Fear not! TiSlide's sharp blade allows for precise trimming and touch-ups, ensuring you always look your best, even on the go.
Cutting someone free from a seat belt inside a burning vehicle
TiSlide's reliable cutting power can be a lifesaver in extreme situations like accidents. Its sharp and durable blade can effortlessly slice through seat belts, enabling quick and efficient extrication from dangerous situations.
Cutting off clothing tags
Those pesky clothing tags that itch and annoy you are no match for TiSlide. Its precise cutting ability ensures you can remove tags cleanly and effortlessly, leaving your clothes tag-free and comfortable.
Unlock your inner artist with TiSlide's carving capabilities. Whether wood, soap, or even fruits and vegetables, TiSlide's sharp blade allows you to create intricate designs and unleash your creativity wherever you go.
Need a sharp pencil for sketching or note-taking? TiSlide has you covered. Its razor-sharp blade makes pencil sharpening a breeze, ensuring you always have a fine point for your creative endeavors.
Camping, hiking, or in a survival situation, TiSlide's robust blade effortlessly cuts through ropes of all thicknesses. TiSlide is a reliable tool for all your rope-cutting needs, from setting up camp to creating emergency shelters.
Whether it's a loose wire on your electronics or a fencing repair job, TiSlide's sharp blade can handle wire cutting with precision. There is no need to fumble with wire cutters or pliers when you have TiSlide.
Forget struggling with can openers or resorting to dangerous methods. TiSlide's strong blade easily punctures cans and glides along the edges, providing a clean and efficient opening for you to enjoy your favorite canned goods.
Disclaimer: Lockpicking should only be done for legal and ethical purposes. In emergencies where authorized access is required, TiSlide's fine-tipped blade can be used for delicate and precise lock manipulation.
Untangling keyrings can be frustrating, but TiSlide's versatile blade makes it a breeze. Simply insert the knife into the keyring's gap and twist gently to open, allowing you to add or remove keys effortlessly.
The versatility of TiSlide knows no bounds. From everyday tasks to unexpected emergencies, this gravity knife is a reliable companion that exceeds expectations. With TiSlide in your pocket, you're always prepared for whatever challenges and adventures life throws.
Why Trust Us?
You may be wondering why you should trust us with your hard-earned money and support our Kickstarter campaign and our best gravity knife for sale. Well, let us assure you that we're familiar with the titanium game. We've been developing titanium products for over a decade and have completed over 15 projects on Kickstarter. So we know what we're doing and are ready to bring TiSlide to life.
We have machine shops worldwide, so there's no waiting around or stumbling through production challenges. We're equipped and ready to deliver on our promises. But don't just take our word for it. 
Get ready to elevate your cutting game with TiSlide, the ultimate gravity knife that's as badass as it gets. Order yours today, and let the adventures begin!