10 Reasons Why the PT1 EDC Leather Wallet is a Must-Have Accessory for Men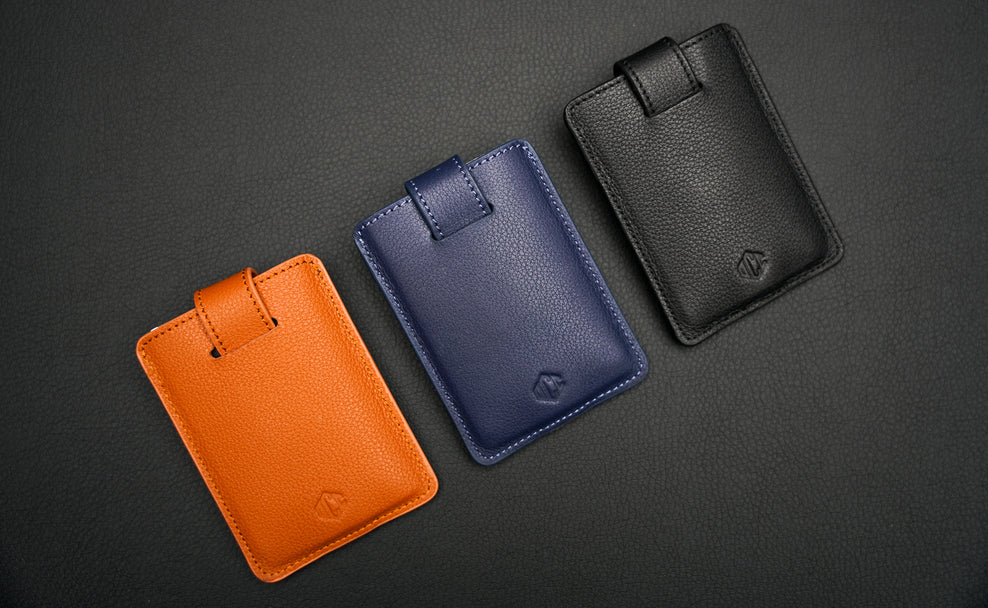 An EDC leather wallet is a must-have for anyone who likes to stay organized and look good.
Imagine you're getting ready for a night out with friends. You have picked the perfect outfit, but your overstuffed, bulky wallet ruins your pants. You don't want to carry a big bag and want to avoid losing your essentials.
This is where the EDC leather wallet comes in - a sleek, minimalist accessory that fits perfectly in your front pocket, keeping you organized and stylish wherever you go. 
The PT1 is a minimalist front pocket wallet that ticks all the boxes for functionality, style, and durability. Here are 10 reasons why the PT1 EDC Leather Wallet is a must-have accessory for men:
10  Reasons Why the PT1 EDC Leather Wallet is a Must-Have Accessory for Men
Slim and Lightweight
Carrying a traditional bulky wallet in your back pocket or bag can cause discomfort and even lead to back pain over time. It can also be inconvenient when trying to access your cards and cash on the go. That's where the PT1 EDC Leather Wallet comes in - its slim and lightweight design eliminates these problems.
The PT1's sleek and compact design allows it to easily fit into your front pocket, while making it comfortable to carry around all day. You won't even feel it's there, so you won't have to worry about discomfort or pain. In addition, its lightweight construction won't weigh you down, making it an excellent choice for those who like to travel light.
Despite its small size, the PT1 can still hold up to 7 cards and cash, which is more than enough for everyday use. Furthermore, this slim profile means you won't have to sacrifice functionality for convenience - you can still easily carry all the essentials. 
Soft Genuine Leather
Manufacturer craft the PT1 EDC Leather Wallet from soft, genuine leather. Making it a luxurious accessory that only improves with age. Unlike synthetic materials, genuine leather has a natural texture that develops a unique patina over time, giving your wallet a one-of-a-kind look that reflects your style.
The leather used in the PT1 wallet is ethically sourced and eco-friendly, so customers can feel good about their purchase, knowing that care was taken for animals and the environment.
The smooth texture of the leather is visually pleasing and satisfying to the touch. In addition, the premium quality leather ensures a durable and long-lasting product, which means your wallet will look and feel great for years to come. Plus, the softness of the leather provides added comfort when carrying it in your pocket.
Handmade with Precision
Every PT1 wallet is handmade with precision. Meticulous attention to detail is paid to ensure the perfect point. Each wallet is made with care and craftsmanship that machines cannot replicate. Each PT1 wallet is unique and made to perfection.
No Hassle Lifetime Guarantee
The PT1 comes with a lifetime guarantee. So if anything happens to your wallet, simply return it for a replacement. The lifetime guarantee is a testament to the high-quality materials and craftsmanship used to make each wallet.
Built to Last
The PT1 is built to last a lifetime, made with top-quality materials that withstand daily wear and tear, the PT1 is the only wallet you'll ever need. The leather is durable and will develop a beautiful patina over time. In addition, the hardware is made to withstand the most challenging conditions, ensuring that your wallet stays secure no matter where life takes you.
Elastic Pull Tab
The elastic pull tab on the PT1 makes it easy to access your cards and cash. The pull tab is satisfying to use and adds a touch of flair to the wallet. No more fumbling around for your wallet with the PT1. The pull tab is also adjustable, allowing you to customize the tension. It's the little things that make the PT1 stand out.
Military Grade Button Hardware
Behold the PT1's button hardware, forged to military-grade standards that combine fashion with function. With the endurance to withstand even the harshest of environments, your wallet shall always remain secure. The hardware's effortless utility blends with a rough-hewn aesthetic to enhance the rugged appeal of your wallet. In sum, a harmonious combination of style and utility that strikes the perfect balance.
Perfect for Travel
The PT1 is the ultimate globetrotter's dream - a sleek, slim wallet that's an ideal travel companion. Slip it into your front pocket, and your worries about losing your valuables to pickpockets or misplacing your wallet are gone. Its discreet design lets you keep your purse close to your chest without adding unnecessary bulk to your outfit. The PT1 is the wallet for those who crave discretion while on the go—a must-have for any adventurous traveler.
Keeps You Organized
Simplicity is the ultimate sophistication, and the PT1 wallet embodies this philosophy with its minimalistic design that keeps you well-organized. Bid farewell to unnecessary clutter and embrace a streamlined life with the PT1 that allows you to carry just the essentials. In addition, this sleek wallet can accommodate up to 7 cards and cash without adding bulk to your pocket or purse.
The elastic pull tab ensures that your cards and cash are always within reach, while making transactions easy. The PT1 wallet is your perfect companion for hassle-free and efficient living, eliminating the need for searching and fumbling through a cluttered wallet.
Versatile Style
The PT1's versatile style makes it the perfect accessory for any outfit. Whether you're dressed up or down, the PT1 adds a touch of sophistication to your look. The leather's natural texture and rich color make it a statement piece that complements any style. From business meetings to casual outings, the PT1 is the perfect accessory to complete any outfit.
Conclusion
The PT1 EDC Leather Wallet. This slim and featherweight wallet boasts impeccable handmade precision, crafted from the finest, buttery-soft genuine leather, designed to endure a lifetime of use. Its military-grade button hardware guarantees longevity and reliability, while its elastic pull tab keeps everything you need within easy reach.
But the PT1 is more than just a wallet - it's an investment in your daily routine. Whether you're a seasoned minimalist or a style connoisseur, this wallet's versatile design is perfect for any occasion. It's the ideal size for travel and organization, with no-fuss functionality that keeps your life effortlessly in order.
Take the first step towards a more refined and efficient life. Invest in the PT1 EDC Leather Wallet today and experience the difference.
Get Your PT1 EDC Leather Wallet Today
Ready to experience the difference that the PT1 EDC Leather Wallet can make in your daily life? Don't wait any longer - head to DailyCarryCo today and get your hands on this must-have accessory for men. With its beautiful soft genuine leather, meticulous handmade construction, and military-grade button hardware. The PT1 is built to last and looks great doing it.
Plus, with its slim and lightweight design, you can carry just the essentials without any unnecessary bulk or clutter. And with DailyCarryCo's no-hassle lifetime guarantee, while you can shop confidently, while knowing you're making a wise investment in your style and convenience.