10 Reasons Why the KeyPry Slim Pry Should Be Your Go-To EDC Pry Bar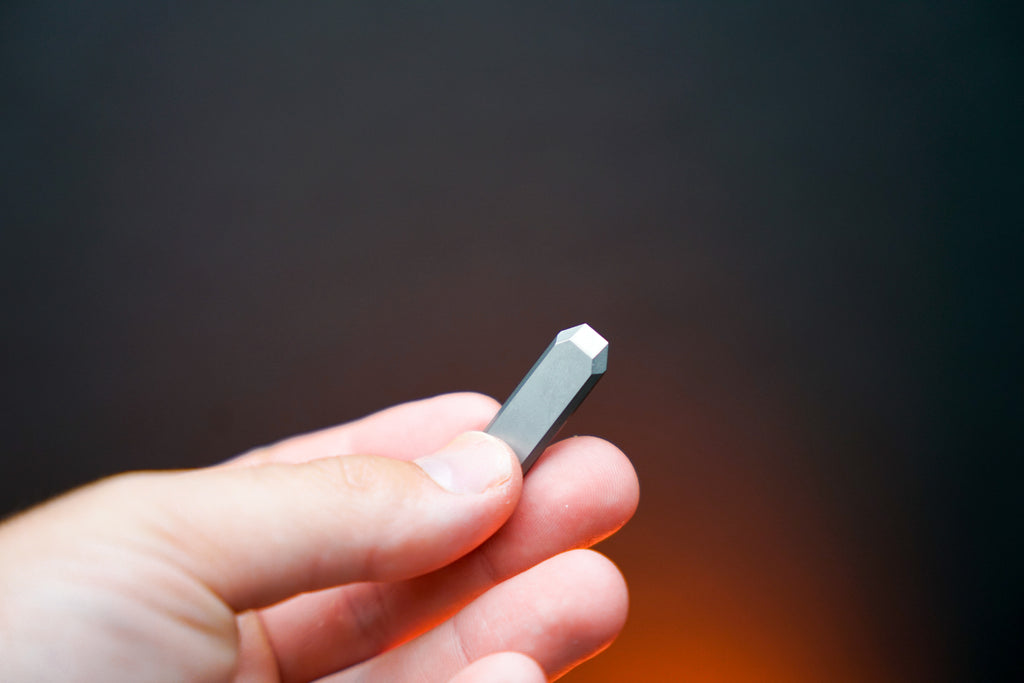 You're out and about, minding your own business, when suddenly you find yourself in a sticky situation that requires an EDC titanium pry bar. Maybe you need to pry open a stuck object, open a paint can, or unscrew a screw. Then, show off your cool EDC gadget. Whatever the reason, the KeyPry Slim Pry Bar is here to save the day. 
In this article, we will explain why the KeyPry Slim Pry Bar should be your go-to EDC titanium pry bar. Trust us, by the end of this article. You'll be rushing to add one to your collection.
10 Reasons Why the KeyPry Slim Pry Should Be Your Go-To EDC Pry Bar
Versatile Use
The KeyPry pry bar is a jack-of-all-trades, able to lend a hand in a variety of situations. One of its most sought-after talents is its knack for opening letters with ease. Its sleek build allows it to sneak beneath the envelope's flap, avoiding any harm to its precious contents. Should you require a flat screwdriver in a pinch, this tool has got you covered, as it can easily fasten or loosen screws.
Its slender and robust design of KeyPry pry bar makes it the perfect cleaning companion for tight spaces. Moreover, this handy gadget is also adept at splitting firewood. Its slim blade can deftly cleave kindling and small logs, making it an indispensable companion for camping and prying open obstinate objects.
Ultra-Compact Size
The KeyPry pry bar is a true champion of compactness! This nifty gadget is a master of miniaturization, measuring a mere 1.45 inches in length, 0.39 inches in width, and 0.11 inches in thickness. It's so tiny it can fit right on your keychain, so you'll always have it on hand when you need it. With its clever keychain hole, you can take this handy tool with you wherever you go, ensuring you're never without a trusty companion for all your prying needs.
Durability
The KeyPry pry bar is made from a single bar of Grade 5 Titanium, known for its strength and durability. Its CNC machined construction and attention to detail in construction make it a high-quality and reliable tool for everyday use. You can rest assured that this tool will last you a lifetime.
Comfortable Design
Unlike many other tactical-looking pry bars on the market, the KeyPry pry bar has a comfortable design that sets it apart. Its sleek and sexy appearance belies its comfort and usability, making it an excellent choice for keychain carry. It's also much more comfortable to hold and use than other tactical pry bars, which can have sharp edges or uncomfortable grip patterns.
Lightweight
The KeyPry pry bar is incredibly lightweight, weighing only 0.17oz or 5g. This means it won't add any extra bulk to your backpack or pocket, making it easy to carry wherever you go. You will notice it's there when you need it.
Rust and Wear-Resistant
The KeyPry pry bar is made from Grade 5 Titanium, which is strong and durable but rust and wear-resistant. This means it won't rust or corrode over time, even in wet or humid conditions. It also won't wear down or break easily, ensuring it remains a reliable tool for years.
Lifetime Warranty
It's no secret that KeyPry stands behind its product. They are so confident in the quality of their EDC titanium pry bar that they offer a lifetime warranty. Unlike other contracts that require you to jump through hoops to get your replacement, KeyPry's lifetime warranty is hassle-free.
But why does a lifetime warranty matter? For starters, it shows that the manufacturer has faith in their product. It also means you can trust that your KeyPry pry bar will be reliable and durable for years.
So, whether you accidentally snap your pry bar while trying to open a particularly stubborn paint can or it simply wears out after years of constant use, you can rest easy knowing that KeyPry has got you covered.
Conversation Starter
Now that we've covered the practical benefits of the KeyPry EDC pry bar, let's take a moment to discuss its potential as a conversation starter.
You might wonder, "How can a small, slim pry bar be a conversation starter?" Well, for starters, it's not your typical keychain accessory. Instead, it's sleek, sexy, and minimalist. So when someone sees it hanging from your keychain, they will ask about it.
And the best part? You can tell them about its practical uses, high-quality construction, and lifetime warranty. Not only will you impress them with your knowledge of EDC gear, but you might inspire them to upgrade their own keychain game.
Opening Packages and Letters
Have you ever received a package in the mail and struggled to open it with your bare hands? The KeyPry pry bar can quickly work the task. Its slim profile allows it to fit easily into tight spaces, while its durable construction means you won't have to worry about bending or breaking.
Prying Open Cans And Containers
Whether you're trying to access a can of paint, a jar of pickles, or a tube of superglue, the KeyPry pry bar is up to the task. Its slim design allows it to slide into the narrowest of spaces, while its strength will enable it to exert the necessary force to open even the most stubborn of containers.
Get Your KeyPry Slim Pry Today!
Looking for a versatile and portable EDC pry bar? The KeyPry Slim Pry Bar is the perfect solution for anyone wanting a compact, lightweight device that can handle various everyday tasks. From opening letters to prying open stuck objects, this EDC gadget will always leave you ready for any situation.
Don't wait any longer to get your hands on the KeyPry Slim Pry Bar. Head over to DailyCarryCo and order yours today. With its sleek and sexy design, comfortable grip, and lifetime warranty, you won't be disappointed with this purchase. Plus, at only 0.17oz and 1.45 inches in length, it won't add any extra bulk to your pocket or backpack. So what are you waiting for? Click that "Add to Cart" button now and enjoy the convenience of the KeyPry Slim Pry Bar!