Everyday Carry Gear 2023 Breakdown | What You Should Carry In Your EDC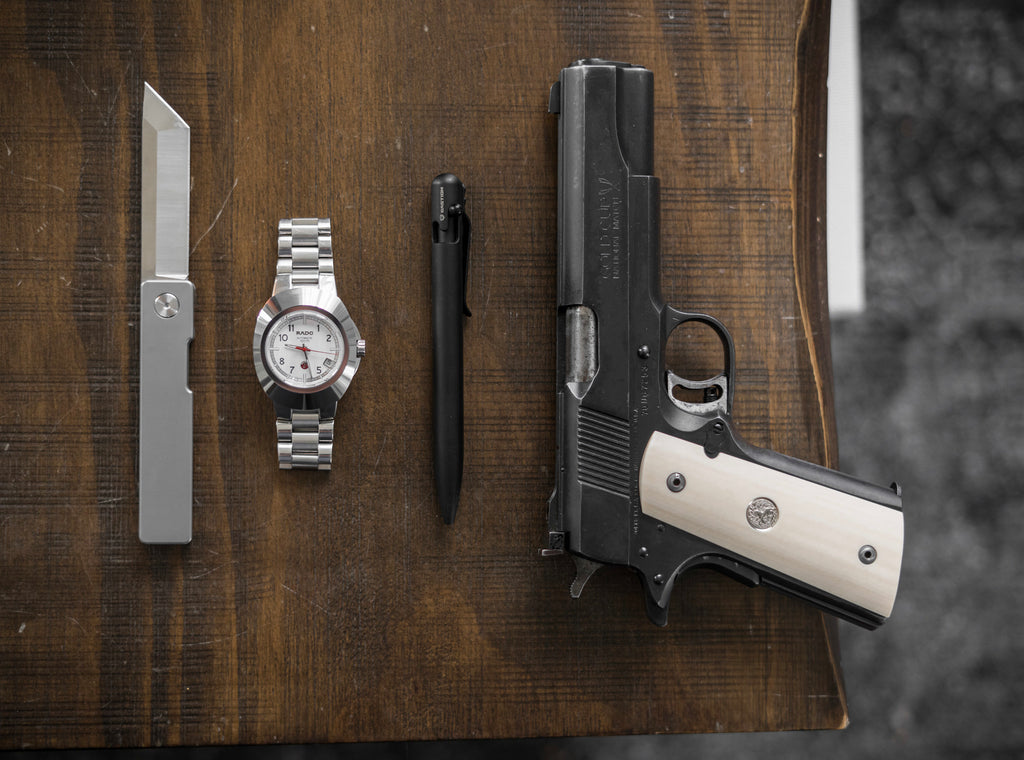 In today's fast-paced world, being prepared for any situation is crucial. That's why having the right everyday carry gear in 2023 is essential. Whether heading to work, going on an outdoor adventure, or running errands, having the right tools at your disposal can make a significant difference. Everyday Carry (EDC) gear refers to the essential items you carry with you daily to ensure you're equipped to handle various tasks and emergencies that may arise. In this blog post, we will provide a comprehensive breakdown of the must-have EDC gear for 2023, focusing on its features, benefits, and practical uses.
Everyday Carry Gear 2023 Breakdown
The MagBlade - Magnetic Titanium Knife
A reliable and versatile knife is an absolute necessity. The MagBlade, a magnetic titanium knife, is an excellent choice. It is lightweight, with a weight of 95 grams. The MagBlade's closed length of 100mm expands to 170mm when opened, providing a practical size for everyday tasks.
Its blade material, m390, ensures exceptional sharpness and durability. Crafted from Grade 5 Titanium, the MagBlade exudes style and functionality. It comes with a one-year warranty, although losing the knife is not covered. The MagBlade proves to be an indispensable tool.
Pouch Potato EDC Pouch Organizer
Keeping your EDC gear organized and protected is essential, and the Pouch Potato EDC Pouch Organizer excels in this regard. Made from 500D Cordura fabric and equipped with military-grade zippers, this pouch ensures durability and reliability. Its fully padded interior provides ultimate protection for your gear. The front and back hook and loop panels allow for customization, enabling you to attach additional accessories or patches.
With high-quality elastic loops, your items will stay securely in place. The pouch measures approximately 6.5 inches by 4.5 inches, offering ample space for your essentials. The exterior and interior zipper pockets further enhance its functionality. Whether you're carrying your wallet, multi-tools, flashlights, or other EDC items, the Pouch Potato EDC Pouch Organizer keeps everything neatly organized and easily accessible.
TiPick - Titanium Nano Toothpick
In EDC gear, the TiPick Titanium Nano Toothpick is a unique and practical tool. Weighing a mere 2.8 grams, this toothpick is incredibly lightweight and compact. With a length of 35mm when closed and 56mm when opened, it's designed to fit perfectly in your pocket or keychain. Crafted from Grade 5 Titanium, it offers remarkable durability and corrosion resistance. The TiPick boasts a polished finish, ensuring hygiene and ease of cleaning. Beyond its conventional oral hygiene use, this toothpick is handy for removing food particles, precise cleaning, and various other tasks. Its lifetime warranty provides peace of mind, although keeping track of this small but invaluable tool is important.
KeyPry Slim Pry
The KeyPry Slim Pry is an essential tool for everyday carry. It's ultra-compact and slim design, measuring just 3mm in thickness, easily attaches to your keychain. Unlike other tactical-looking pry bars, the KeyPry's sleek and comfortable design stands out. Crafted from a single bar of Grade 5 Titanium, it guarantees strength and durability. This EDC pry bar is lightweight, rust-resistant, and wear-resistant, making it ideal for various tasks. 
Whether you need to open a paint can, pry open a stuck object, or perform everyday tasks, the KeyPry will get the job done. Its keychain hole ensures it's always within reach, so you're prepared for any situation. With a lifetime warranty and hassle-free guarantee, the KeyPry provides confidence and reliability.
TiWhistle Titanium Emergency Whistle
Having a loud and reliable whistle can be a lifesaver when it comes to personal safety and emergencies. The TiWhistle Titanium Emergency Whistle fits this bill perfectly. An ear-piercing 120-decibel sound projection ensures that your alarm reaches long distances. Despite its impressive power, the TiWhistle maintains a sleek, small, and subtle design. You can easily attach it to your keyring, ensuring you're always prepared for emergencies.
Crafted from 100% Grade 5 Titanium, this whistle guarantees durability and longevity. Weighing only 0.14oz won't weigh you down during outdoor adventures. Whether hiking, fishing, camping, or backpacking, having the TiWhistle within reach provides safety and protection. Additionally, it doubles as a valuable tool for pet training, allowing you to call your furry friends back or alert them when they misbehave.
MiPick - The World's Smallest and Longest-Lasting Toothpick
The MiPick toothpick redefines the concept of a toothpick in EDC gear. It holds the title of the world's smallest and longest-lasting toothpick, measuring a mere 22mm in length and weighing approximately 1.5 grams. Crafted from GR5 Titanium, this toothpick guarantees durability and reliability. Whether you need it for oral hygiene, removing food particles, or precision cleaning, the MiPick is up to the task. Its small size makes it ideal for pocket or keychain carry, ensuring you have it readily available whenever needed. With its matte titanium or crystal silver finish, the MiPick boasts both style and functionality.
PT1 - Leather Wallet
A reliable and functional wallet is an essential item in any EDC collection. The PT1 Leather Wallet not only meets these criteria but exceeds them. Designed to fit up to seven cards plus cash, this wallet offers both capacity and convenience. Crafted from beautiful soft genuine leather, it showcases meticulous handmade craftsmanship. The PT1 Leather Wallet has a no-hassle lifetime guarantee, reflecting its built-to-last nature.
Its satisfying elastic pull tab ensures quick and easy access to your cards, while the military-grade button hardware adds a touch of sophistication. With the PT1 Leather Wallet, you can carry your essentials in style while enjoying peace of mind with a durable and reliable accessory.
Shop Now at DailyCarryCo
Looking to elevate your everyday carry gear in 2023?  Head over to DailyCarryCo today and discover a wide range of high-quality EDC essentials, including the MagBlade Magnetic Titanium Knife, Pouch Potato EDC Pouch Organizer, TiPick Titanium Nano Toothpick, KeyPry Slim Pry, TiWhistle Titanium Emergency Whistle, MiPick, and PT1 Leather Wallet.
Our commitment to quality ensures that every product we offer meets the highest standards of craftsmanship and functionality. Refrain from settling for average when you can have exceptional gear that stands the test of time.
Visit our online store and experience the convenience of shopping from the comfort of your home.