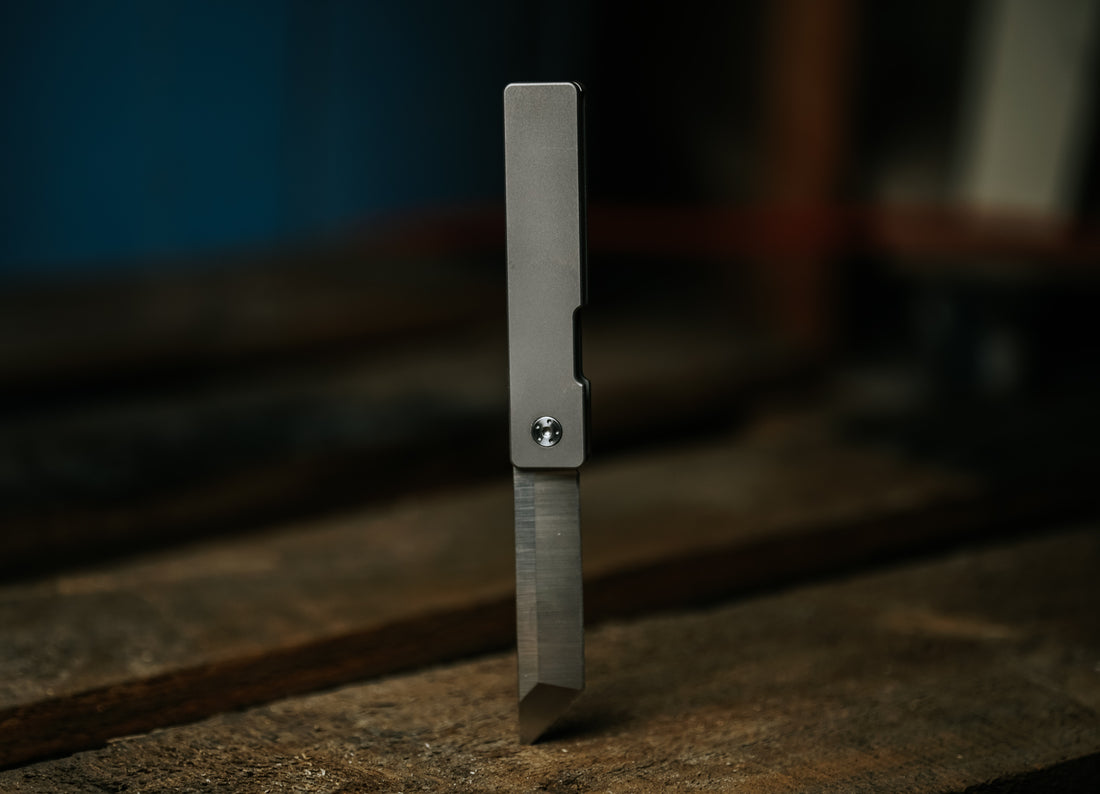 Why the MagBlade is the Best Magnetic Titanium Gravity Knife for Sale in 2023
If you're looking for a gravity knife for sale, a knife enthusiast, or someone who appreciates a good tool, you'll love the MagBlade magnetic titanium knife. This knife is like no other, with a unique design that incorporates a magnetic locking mechanism and a sleek, polished blade that will make you the envy of all your friends. 
But before we get into why the MagBlade is the best magnetic titanium gravity knife for sale in 2023, we have a confession. This isn't our first time trying to design a titanium pocket knife before. It took iteration after iteration to get the final design of the MagBlade just right.
Most machinists turned us away, with some quoting ridiculous prices just to machine this beautiful knife. Some people claimed that making each knife would take hours of labor, and machining costs alone would exceed $500 for each product. But we persevered and now have the ultimate MagBlade magnetic titanium knife.
So, what makes the MagBlade so special? First, let's dive into the unique features of this fantastic knife.
Why the MagBlade is the Best Magnetic Titanium Gravity Knife for Sale in 2023
Magnetic Locking Mech
The MagBlade is a cut above the rest, thanks to its captivating magnetic locking system. The blade boasts a one-of-a-kind construction, featuring a magnet cleverly nestled in the base. The exceptional design allows for firm fastening of the blade when idle, elevating its safety and convenience.
However, the magnetic mechanism doesn't just serve a practical purpose; it also brings immense pleasure to the user. With a resounding snap, the magnetic lock engages, triggering a rush of excitement akin to unlocking a clandestine arsenal.
Magnetic Butterfly Hinge
Not only does the MagBlade have the best gravity knife for sale, but it also boasts an impressive magnetic locking mechanism, and it also flaunts a delightful magnetic butterfly hinge that is sure to captivate your attention. With a flick of your wrist, the knife opens up just like a butterfly knife, providing endless entertainment. 
However, unlike its counterpart, the MagBlade puts your safety first, as the blade is firmly locked in place when in use. But who says safety has to be dull? The magnetic butterfly hinge is so gratifying, you may find yourself fiddling with your MagBlade all day long.
Gorgeous Polished Blade
Behold the captivating MagBlade, where form meets function in a stunning display of excellence. Its polished blade glimmers with a lustrous beauty that captures the eye, while its sleek design and premium materials set it apart from the rest.
Unmatched in sharpness and durability, this blade proves that it's more than just a pretty face. Crafted from top-of-the-line M390 blade material, the MagBlade is a true investment that promises to stand the test of time.
Easily Serviceable for Lifelong Use
The MagBlade is not just a beautiful knife but also designed to last a lifetime. The high-quality materials and attention to detail in the design mean this knife is easily serviceable and lasts for years. If you like investing in quality tools that will last a lifetime, the MagBlade is your knife.
Extremely Durable Titanium Body
As a lover of the great outdoors, having a trusty gravity knife by your side is essential for conquering any obstacle. That's where the MagBlade with its indestructible titanium body enters the picture. This blade is built to withstand even the toughest of challenges, making it the go-to choice for adventurers who enjoy camping, hiking, or fishing.
Whether you're slicing through a tangled rope or preparing a freshly caught fish, the MagBlade's titanium body guarantees unwavering strength and durability. No matter the adversity you face, this knife will emerge unscathed, remaining as sharp and reliable as the day it joined your gear.
Amazing M390 Blade Material
The MagBlade's M390 blade material sets it apart from other knives on the market. This high-quality material is known for its exceptional edge retention and corrosion resistance, making it a favorite among knife enthusiasts.
The blade is incredibly sharp and will stay that way even after repeated use. So you won't have to worry about constantly sharpening or replacing it anytime soon.
Precision Machined Grade 5 Titanium Body
Fashioned from Grade 5 titanium, this gravity knife blade is precision machined to achieve unparalleled levels of detail and quality.
Crafted with meticulous care and unwavering attention to detail, the MagBlade boasts not only a stunning appearance but also flawless functionality. It's a knife that has been designed to exceed the highest standards of quality and craftsmanship, resulting in a work of art that is sure to impress.
What distinguishes the MagBlade from other knives is its superior design. The level of detail that has gone into its creation is unparalleled, making it a blade that is both aesthetically striking and technologically advanced. For professionals who demand only the best, the MagBlade is a must-have tool that will elevate their work to new heights.
The Specs of the MagBlade Magnetic Titanium Knife
The MagBlade Magnetic Titanium Knife is the gravity knife for sale and it is not just any ordinary knife. It's a knife that is designed with precision and attention to detail. Here are the specs of this fantastic knife:
Weight: 95 grams

Length Closed: 100mm

Size Opened: 170mm

Width: 20mm

Thickness: 11mm

Blade Material: M390

Material: Grade 5 Titanium

Warranty: 1 Year (Remember!)
Why the MagBlade Magnetic Titanium Knife is Perfect for Outdoor Enthusiasts
With a body forged from the mighty metal of titanium, this blade is built to withstand the harshest of outdoor conditions. Whether you're scaling mountains, forging through jungles, or traversing deserts, the MagBlade is your trusty companion.
Its sharp blade is easily accessible, thanks to the power of magnetism harnessed by the locking mechanism. No more fumbling or struggling to access your knife when you need it most. The MagBlade is always ready at your side, ready to help you tackle any obstacle on your adventure.
Why Chefs Love the MagBlade Magnetic Titanium Knife
The MagBlade magnetic titanium knife has become a kitchen staple for chefs who revel in the art of slicing and dicing. Its M390 blade boasts unparalleled precision and sharpness, making it a cut above the rest. Moreover, the knife's magnetic locking mechanism adds a touch of convenience, ensuring quick and easy access without any clumsy fumbling.
Get Your MagBlade Magnetic Titanium Knife Today
Looking for a gravity knife for sale that can withstand any outdoor adventure or everyday carry? Look only as far as DailyCarryCo, where you can find the MagBlade Magnetic Titanium Knife. Not only does this knife provide the convenience of a secure and easily accessible blade, but it also boasts the durability and toughness of a titanium body. Get yours today!
And while you're at it, check out the other unique EDC titanium products DailyCarryCo offers, such as the titanium nano toothpick, TiSlide, QuickPry Mini Pry, and more! These products are designed to make your daily carry easier, more convenient, and more stylish.
Don't settle for just any knife or EDC tool. Instead, choose the best with the MagBlade Magnetic Titanium Knife and other top-quality products from DailyCarryCo. Order now the gravity knife for sale and experience the difference for yourself!