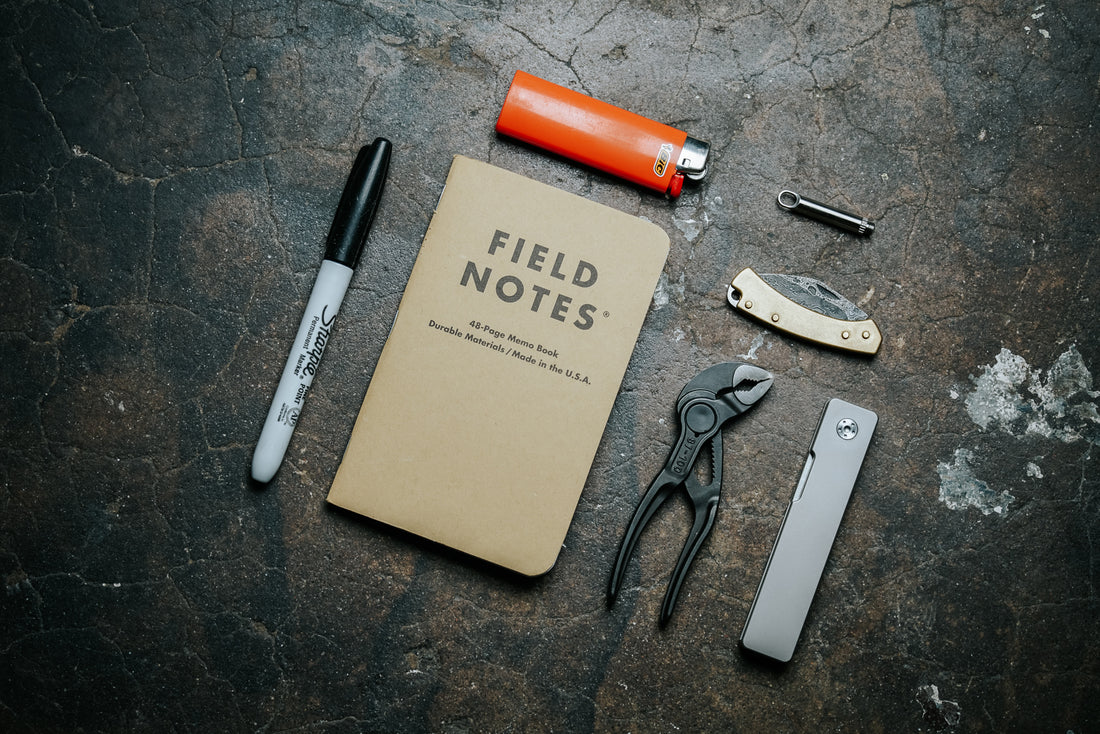 What Are The Most Innovative Everyday Carry Tools of 2023?
As technology and innovation continue to advance, we are constantly seeing new and innovative everyday carry tools hit the market. These tools are designed to make our lives easier, more efficient, and more convenient. In this blog post, we will take a look at the most innovative everyday carry tools of 2023.
What Are The Most Innovative Everyday Carry Tools of 2023?
MagBlade - Magnetic Titanium Knife
Introducing the extraordinary MagBlade, a cosmic fusion of magnetism and titanium. Captivating the hearts of nature enthusiasts, culinary maestros. All who revel in the marvel of effortless access to a steadfast blade. Crafted with utmost precision, the ethereal blade of this knife is hewn from the transcendental metal of titanium. Bestowing upon it a supernatural grace that knows no bounds. Nestled within its core lies a magnet, a magnetic force that cradles the blade, whispering tales of security when idle.
Behold the magnetic symphony, a symphony that breathes innovation into the very soul of this creation, transcending the realm of ordinary cutlery. Its design, a seamless marriage of sophistication and contemporary artistry. It casts a spell upon all who behold it, beckoning them to partake in its sublime function. The MagBlade, a radiant emblem of excellence, becomes an indispensable companion. Effortlessly harmonizing with the kaleidoscope of tools that comprise one's treasured collection.
TiSlide - Titanium Gravity Knife
It introduces the TiSlide, a mesmerizing titanium gravity blade that transcends ordinary cutlery. This knife is a true masterpiece with its gravity-assisted opening mechanism and exquisitely polished blade. Crafted for a lifetime of exceptional performance. The TiSlide boasts an indestructible titanium frame and a blade forged from the extraordinary M390 material.
Impeccably engineered from Grade 5 titanium, this knife marries strength and feather-lightness in a symphony of design. Its flawless construction guarantees resilience and agility, rendering it an unrivaled gem to enhance any everyday essentials. Prepare to be captivated by the allure of TiSlide, the epitome of cutting-edge elegance.
RID - Ridiculous Titanium Pry Bar
Introducing the extraordinary RID, a mind-boggling titanium masterpiece poised to captivate attention wherever it goes. Immerse yourself in the enchantment of this limited edition pry bar. As only a mere 100 of these marvels will grace the world. Each adorned with its own distinguished serial number. Sculpted from the purest titanium, the RID boasts a formidable 12mm thickness and stretches gracefully to 8 inches. The epitome of perfection for any endeavor.
Behold the unparalleled essence of craftsmanship and excellence. Meticulously crafted for those who demand nothing short of flawlessness in their everyday carry tools. The RID stands as a symbolic fusion of innovation and design, an unmistakable testament to their unrivaled potency in everyday carry.
TiPick - Titanium Nano Toothpick
TiPick, a nano toothpick forged from titanium, so thin and robust, it outlasts its wooden counterparts. Its indestructible construction resists the rigors of use and adds a touch of modernity to your daily essentials. In addition, an eco-friendly and sanitary design makes it a practical and sustainable choice for conscientious consumers.
Perfect for travel, the TiPick's compact size slips discreetly into any pocket or bag. Don't let its diminutive appearance deceive you; this tiny titan delivers a powerful clean for healthy teeth and gums anytime. So make sure to leave home with it!
TiWhistle Titanium Emergency Whistle
Behold the TiWhistle, the ultimate lifesaver in the form of a titanium whistle. With a capacity to produce a thundering 120 decibels sound, it's a trusted companion for anyone who seeks to make a piercing alarm call at long distances. Yet, despite its power, its petite size allows it to slip discreetly into your pocket, hardly noticeable yet always within reach.
Forged from the finest grade 5 titanium, the TiWhistle guarantees a lifetime of durability and effectiveness. Weighing a mere 0.14oz, this featherweight whistle is a must-have for anyone indulging in outdoor activities like hiking, fishing, camping, or backpacking. With the TiWhistle in your gear, you'll feel a sense of security and preparedness, knowing that you can summon help anytime, anywhere - even in wet conditions, thanks to its waterproof design.
PT1 - Leather Wallet - Minimalist Wallet
It is introducing the PT1, a sleek and minimalist front pocket wallet that boasts a capacity of up to seven cards plus cash. Crafted from luxuriously soft genuine leather and meticulously handmade, the PT1 exudes elegance and durability. Moreover, with its hassle-free lifetime guarantee, this wallet is built to last, promising you years of dependable use.
Its elastic pull tab provides a satisfying grip, allowing quick and easy access to your cards, while the military-grade button hardware lends a ruggedness to its design. As a result, the PT1 strikes the perfect balance between style, functionality, and minimalism, making it the ultimate wallet for the modern minimalist.
PocketPal Titanium PryBar
Introducing PocketPal - the game-changer in bottle openers that will transform how you pop open your favorite beverages. Bid farewell to the hassle of slippery grips and the frustration of multiple attempts to uncap your drinks. Instead, the PocketPal boasts an irresistibly wide-mouth bottle opener engineered to provide the most efficient and enjoyable beverage-opening experience ever!
Thanks to its sleek and slim design, this opener can be carried around in your front or back pocket, ensuring you always have a reliable and practical tool. Crafted from 100% Grade 5 titanium, the PocketPal is incredibly strong and durable and a visually stunning work of art.
This compact tool packs a punch with dimensions of 100mm in length, 38mm in width, and a thickness of 5mm. Its wide-rounded pry on the front end allows you to tackle a range of tasks beyond just opening bottles, making it an incredibly versatile addition to your everyday carry arsenal.
Exploring the Innovations of the Best Everyday Carry Tools
Now that we have covered some of the most innovative everyday carry tools of 2023, let's take a moment to appreciate the advancements and features that make these tools stand out.
Material Selection and Durability
Imbued with a touch of ingenuity, these extraordinary contrivances owe their innovation to a particular element: titanium. Renowned for its unrivaled fusion of strength and feather-like lightness, titanium is the ultimate choice for portable utilities. Its unwavering tenacity and unyielding dependability grace your daily carry with verbal assurance, sparing you the burden of unnecessary heft.
Unique Mechanisms
Unveiling a world of boundless possibilities, everyday carry tools transcend the mundane with their ingenious designs, granting a harmonious blend of functionality and convenience. Picture this: the MagBlade, an emblem of innovation, boasts a magnetic locking mechanism that embraces the blade, guarding it fiercely when idle, thwarting any unintentional openings or closures.
Meanwhile, the TiSlide enchants with its gravity opening mechanism as if gracefully dancing through the cosmos, bestowing a symphony of elegance and contentment with every fluid motion upon its wielder.
Sleek and Modern Design
Not only do these everyday carry tools serve practical purposes, but they also flaunt exquisite and contemporary aesthetics. Picture the gleaming edges of the TiSlide or the slender contours of the PT1 wallet – these tools embody both functionality and visual allure. They infuse your everyday ensemble with elegance and panache, elevating your style to new heights.
Versatility and Multi-functionality
These tools are truly remarkable. Take the PocketPal, for example. It effortlessly opens bottles and also serves as a versatile pry bar for different tasks. Then there's the TiWhistle, a beacon of preparedness in emergencies. Its enchanting melody is just one of its many enchantments. It also possesses a secret power: the ability to skillfully train dogs, combining utility and artistry. These incredible contrivances showcase their versatility, adjusting to various needs and desires, fulfilling every longing and preference.
Embracing Innovation in Everyday Carry
Unleashing the spirit of imagination, innovation dances hand in hand with everyday carry tools. It is an eternal voyage fueled by the pursuit of refining functionality, enhancing convenience, and embracing the allure of aesthetics. As we voyage into the unknown, brace yourself for an imminent wave of revolutionary tools that will elevate the tapestry of our mundane existence.
By immersing ourselves in this captivating realm of innovation, we unlock the gates to a realm where efficiency, readiness, and delight converge. Embracing the cutting-edge wonders bestowed upon us, we transcend the confines of ordinary routines, transforming them into symphonies of productivity and joy. With each investment in high-caliber everyday carry tools, we forge a partnership with durability and amplify our essence of being, equipping ourselves with a vibrant tapestry of preparedness and immersive experiences.
Get Your Innovative Everyday Carry Tools at DailyCarryCo
Now that you know about some of the most innovative everyday carry tools of 2023, it's time to upgrade your EDC game. If you're interested in any of the products mentioned in this article, you can find them at DailyCarryCo, your go-to source for high-quality and unique EDC gear.
From the MagBlade magnetic titanium knife to the TiPick titanium nano toothpick, DailyCarryCo has many innovative and practical tools to make daily life easier and more enjoyable. So refrain from settling for ordinary means when you can have the best.
Visit DailyCarryCo's website today to explore their collection of everyday carry gear and upgrade your EDC game to the next level.