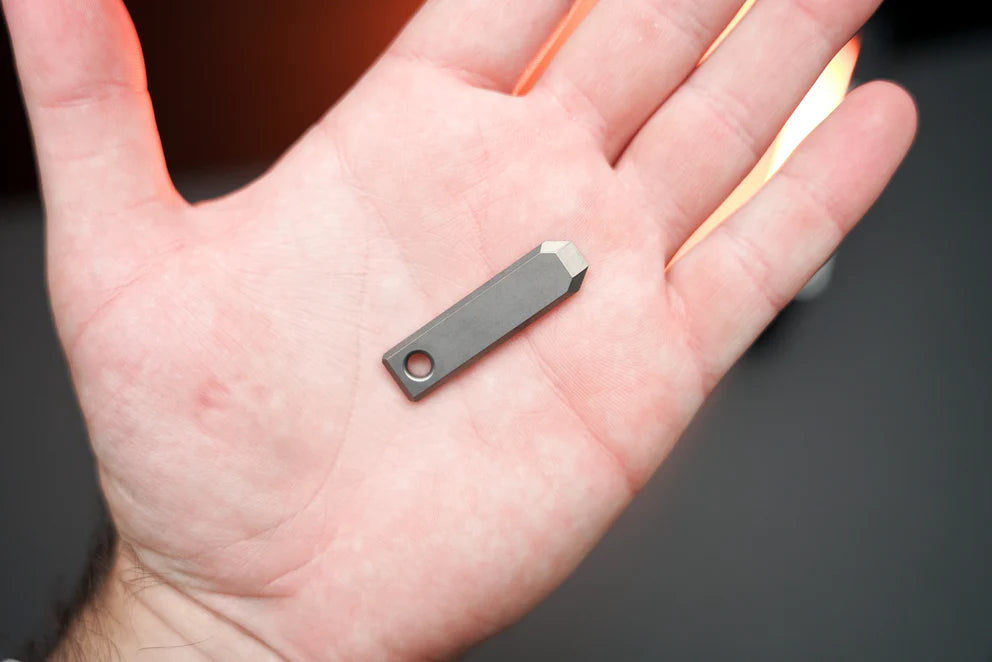 How Can KeyPry Slim Pry EDC Pry Bar Enhance Your Everyday Carry Experience?
The EDC pry bar, a must-have for those who value readiness and practicality, has seamlessly woven into our daily lives. Gone are the days when it was a mere accessory; now, it is an indispensable tool. From handy wallets to versatile keychains, EDC items have metamorphosed into essential companions, guiding us through the intricacies of our everyday existence.
Among these prized possessions, the KeyPry shines bright, earning its rightful place in every EDC collection. This tiny titan effortlessly tackles everyday tasks, and in this blog, we explore how it elevates your EDC journey.
KeyPry EDC Pry Bar Design and Specifications
Let me introduce you to the remarkable KeyPry, which stands out with its sleek and captivating design. This little wonder is astonishingly thin, measuring a mere 3mm thick, making it an ideal keychain companion for everyday needs. Furthermore, its slender frame ensures it won't burden your pocket or backpack, allowing you to carry it effortlessly wherever your adventures take you.
Unlike other tactical-looking models that sacrifice functionality for appearance, the KeyPry prides itself on its comfortable design. However, be aware of its attractive exterior; this tool is as practical as it is visually appealing, making it the perfect choice for your keychain arsenal.
Crafted with utmost precision, the KeyPry EDC pry bar is a marvel of CNC machining. This gadget is fashioned from a single bar of Grade 5 Titanium and guarantees unparalleled strength and durability. Every detail in its construction has been meticulously attended to, employing only the finest 100% titanium materials.
Not only does this ensure reliability, but it also makes it a top-tier selection for your everyday carry needs. Its resistance to rust and wear further solidifies its position as the ultimate tool for daily use. With this trusty EDC gadget in your possession, you'll always be prepared for any situation that comes your way.
Thanks to the convenient keychain hole on the KeyPry, you can effortlessly keep it by your side at all times, ensuring that a reliable tool is never out of reach. In addition, it boasts dimensions of 1.45 inches (37mm) in length, 0.39 inches (10mm) in width, and 0.11 inches (3mm) in thickness, making it the perfect addition to your EDC collection, with just the right size and portability to accompany you on all your adventures.
Advantages of Carrying the KeyPry EDC Pry Bar
The KeyPry EDC prybar is n essential addition to your everyday carry collection, offering an array of benefits that are hard to match. It effortlessly tackles various tasks, from opening letters to tackling flat screwdrivers, performing cleaning duties, and splitting firewood. With this single tool at your disposal, the need to carry multiple cumbersome devices becomes a thing of the past, streamlining your EDC experience.
But that's not all—the KeyPry boasts a lightweight design that further elevates its value in your EDC arsenal. Weighing a mere 0.17 ounces (5 grams), it defies gravity with its featherlight presence. So say goodbye to unnecessary burdens and bulging pockets or backpacks; this little champion easily accompanies you wherever you venture.
Here's where KeyPry sets itself apart—its unwavering commitment to quality is solidified by a lifetime warranty, a testament to its confidence in its product's caliber and endurance. Rest easy, for this warranty is not a mere empty promise; it's a hassle-free assurance that KeyPry wholeheartedly stands behind. Should any manufacturing defects or damage occur, you can trust that it will swiftly replace your beloved EDC pry bar without causing you the slightest inconvenience.
Using the KeyPry EDC Pry Bar for Everyday Tasks
The KeyPry EDC pry bar is designed to be a versatile tool that can be used for various tasks. Here are a few everyday tasks where the KeyPry pry bar EDC can be handy.
Letter Opening
Opening letters with knives or scissors can be challenging, but the KeyPry  pry bar EDC makes it a breeze. Its slim, pointed edge lets you slide under the envelope flap and open it precisely and effortlessly. No more worrying about accidentally tearing the contents or struggling with stubborn adhesive.
Flat Screw driving
From tightening loose screws on furniture to assembling small gadgets, the KeyPry EDC pry bar proves its worth as a flat screwdriver. Its sturdy titanium construction ensures it can handle various screw sizes without bending or slipping, providing a reliable tool for quick fixes and DIY projects.
Cleaning
The KeyPry EDC pry bar's flat edge also comes in handy for cleaning tasks. Whether scraping off stubborn residue or removing grime from hard-to-reach corners, this versatile tool can assist you in maintaining a clean and tidy environment. In addition, its compact size makes it easy to maneuver, ensuring no dirt or debris goes unnoticed.
Splitting Firewood
Surprisingly, the KeyPry EDC pry bar can even aid in splitting firewood during your outdoor adventures. Its robust titanium construction and pointed tip enable you to create notches or wedges in the wood, making breaking easier using an ax or other tools. In addition, with the KeyPry EDC pry bar by your side, you can enjoy the warmth of a crackling fire hassle-free.
Comparing the KeyPry EDC Pry Bar to Other EDC Tools
When choosing the perfect EDC pry bar, KeyPry stands out. While other pry bars may focus solely on a tactical appearance, the KeyPry EDC pry bar combines functionality with style. It's comfortable design and slim profile ensure that it seamlessly integrates into your everyday carry without compromising on usability.
Furthermore, the KeyPry EDC pry bar's Grade 5 Titanium construction sets it apart from other materials commonly used in EDC tools. Titanium offers exceptional strength and durability, making it a reliable choice for everyday tasks. In addition, its rust-resistant and wear-resistant properties guarantee that your KeyPry EDC pry bar will remain pristine even after prolonged use.
Elevate Your Everyday Carry with KeyPry EDC Pry Bar - Get Yours at DailyCarryCo!
Take advantage of the opportunity to own the KeyPry EDC Pry Bar, the ultimate tool for convenience, functionality, and style. Head to DailyCarryCo and get on this game-changing EDC pry bar today!
Why choose DailyCarryCo? As a trusted provider of top-quality EDC gear, DailyCarryCo offers a seamless shopping experience, ensuring you receive an authentic KeyPry EDC pry bar that meets all your expectations. Here's why you should make your purchase with confidence:
Extensive Selection: DailyCarryCo understands the diverse needs of EDC enthusiasts. That's why they curate various innovative and practical EDC tools, ensuring you access the best products. With DailyCarryCo, you'll find everything you need to enhance your everyday carry.
Quality Assurance: When it comes to EDC gear, quality is paramount. DailyCarryCo sources its products from reputable manufacturers, guaranteeing you receive genuine, high-quality items. Rest assured that the

KeyPry EDC pry bar

you purchase will meet the highest durability and performance standards.
Hassle-Free Shopping: DailyCarryCo's user-friendly website makes your shopping experience a breeze. With detailed product descriptions, clear images, and customer reviews, you can make an informed decision before adding the KeyPry EDC pry bar to your cart. Plus, their secure payment options and efficient shipping ensure a seamless transaction from start to finish.

Customer Satisfaction: DailyCarryCo

prioritizes customer satisfaction above all else. Their dedicated support team can assist you with any questions or concerns. With their commitment to exceptional service, you can trust that your EDC needs will be met with utmost care and attention.