10 Reasons Why the PocketPal Titanium Pry Bar is the Best EDC Tool for 2023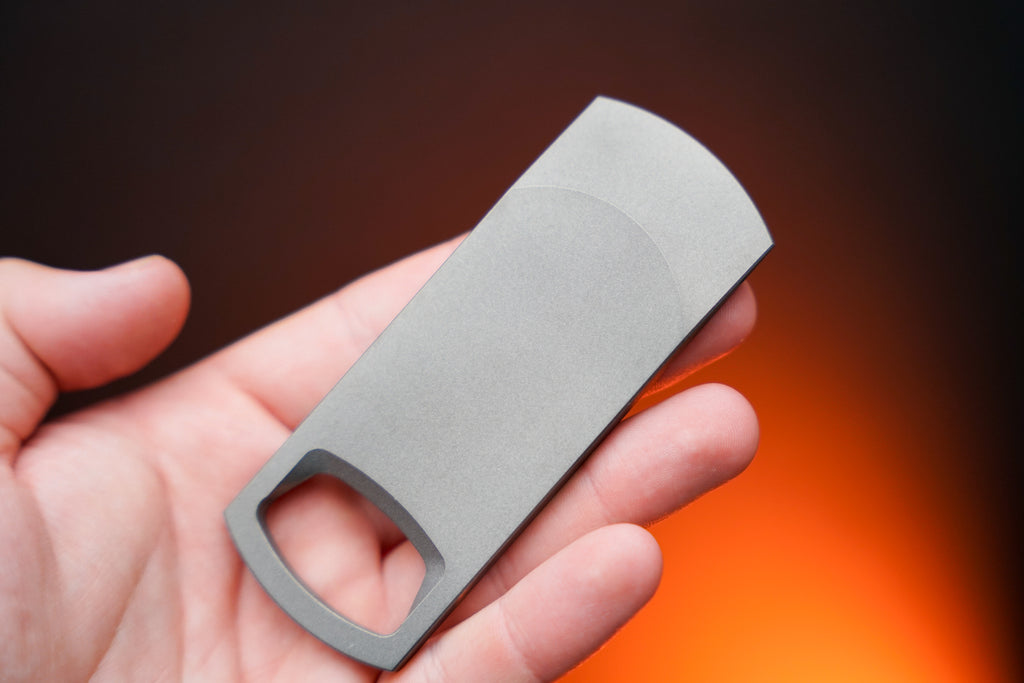 Picture this: You are at a friend's party, someone hands you a cold bottle of your favorite beer, and your mouth waters as you reach for your trusty titanium pry bar bottle opener, only to fumble and drop it on the ground. You scramble to pick it up and try again, but your grip slips and the bottle remains unopened. There's a solution to this common problem: the PocketPal Titanium EDC Pry Bar. This tool is a game changer when opening bottles and completing tasks. This article will cover ten reasons why PocketPal is the best EDC tool for 2023.
10 Reasons Why the PocketPal Titanium Pry Bar is the Best EDC Tool for 2023
The Ultimate Bottle Opener
PocketPal is the ultimate bottle opener. Designed to eliminate slipping and double attempts, the ultra-wide mouth bottle opener of the PocketPal Titanium Pry Bar ensures ease of use. Once you use PocketPal to open a bottle, you'll never return to your old opener.
But the PocketPal isn't just for beer bottles. You can also use it to open soda cans, glass bottles, and even twist-off caps. Its wide mouth design makes it easy to grip and twist. So you can quickly open any drink without struggling or damaging the bottle or cap.
A Slim and Convenient Design
One of the best things about the PocketPal is its slim design. At only 100mm long, 38mm wide, and 5mm thick, it's easy to carry in a back or front pocket. Unlike other bulky EDC tools, the PocketPal won't weigh you down or take up unnecessary space.
Its compact size also makes it perfect for travel. Whether hiking, camping, or running errands around town, the PocketPal can easily fit into your pocket or bag without adding extra weight or bulk.
In addition to its bottle-opening capabilities, the PocketPal also features a rounded wide pry bar. This feature is handy for various prying tasks, from opening paint cans to removing nails. The pry bar's shape makes it easy to get leverage and apply pressure without damaging the object you're prying open.
For example, let's say you're renovating your home and must remove an old baseboard. The PocketPal's pry bar can help gently pry it away from the wall without damaging the drywall or the baseboard. Or, if you're a DIY enthusiast, you can use PocketPal to pry open paint cans, remove staples, or even carve small pieces of wood.
We can't deny that PocketPal is a beautiful tool. Its Grade 5 titanium material gives it a sleek, modern look that will catch people's attention. Plus, owning a device that looks as good as it performs is a definite bonus.
But the PocketPal isn't just a pretty face; it's also designed to be functional and practical. It is a minimalist design, and high-quality materials make it a tool you'll be proud to carry wherever you go.
The Perfect Conversation Starter
Speaking of catching people's attention, PocketPal makes for a great conversation starter. Whether at a party, a coffee shop, or waiting in line at the grocery store, people are bound to ask about your unique-looking tool. Use it as an opportunity to make new connections and start interesting conversations.
For example, let's say you're at a networking event, and you pull out your PocketPal to open a bottle of water. The person next to you might ask about it, and you can explain how it's your go-to tool for opening bottles, prying open cans, and completing everyday tasks. You never know where a simple conversation can lead, and PocketPal could be the icebreaker you need to make new friends or connections.
A Durable and Long-Lasting Tool
The PocketPal titanium edc pry bar is made from 100% Grade 5 Titanium, known for its strength and durability. This material is resistant to corrosion, scratches, and wear and tear, making it an ideal choice for an EDC tool you'll use frequently.
Unlike other bottle openers and pry bars made from cheap materials, the PocketPal is built to last. You can use it daily without worrying about it breaking or becoming damaged, and its sleek design will look great for years to come.
An Essential Tool for Outdoors Enthusiasts
Suppose you enjoy spending time outdoors, whether hiking, camping, or backpacking, the PocketPal is an essential tool to add to your gear collection. Its compact size and versatile capabilities make it perfect for opening cans and bottles on the trail, prying open campfire logs, and even carving small pieces of wood.
Plus, its durable titanium material is resistant to the elements, so you won't have to worry about rusting or corroding if it gets wet or exposed to the elements.
A Tool for DIY Enthusiasts
If you enjoy DIY projects, the PocketPal is a must-have tool. Its pry bar can help you remove nails, open paint cans, and even pry open stubborn drawers or doors. And because it's so compact, you can easily carry it from room to room or project to project without lugging around a heavy toolbox.
Plus, because it's made from high-quality titanium, it's a tool you can rely on for years. You won't have to worry about it breaking or becoming damaged so you can focus on your DIY projects without interruptions.
A Perfect Gift for Friends and Family
If you're looking for a unique and practical gift for friends and family, PocketPal is an excellent choice. Its sleek design and versatile capabilities make it a skill anyone can appreciate, from beer drinkers to DIY enthusiasts.
You can customize it with a unique engraving or message to make it a truly personalized gift. And because it's so compact and easy to carry, it's a gift that your loved ones can use and enjoy daily.
An Affordable Tool with Big Benefits
Finally, one of the best things about PocketPal titanium pry bar is its affordability. Despite its high-quality materials and versatile capabilities, it's priced at an accessible level for most budgets. This means that anyone can enjoy the benefits of owning a PocketPal without breaking the bank.
Plus, because it's built to last, you won't have to replace it every few months like you might with other cheaply made tools. So it's a wise investment that will pay off in the long run.
Get Your Titanium EDC Gear Today!
Now that you've discovered the many benefits of the PocketPal Titanium Pry Bar, you're wondering where to find one. DailyCarryCo offers a wide selection of high-quality EDC titanium products, including the PocketPal and other essentials like the titanium emergency whistle, MagBlade magnetic knife, EDC leather wallet, TiSlide, TiPick, and more.
Our products are built to last and designed to make your everyday life easier and more enjoyable. And with our affordable prices and fast shipping, there's no reason not to upgrade your EDC gear today. So head over to DailyCarryCo and browse our selection of titanium EDC gear – you won't be disappointed!