What are The Best Everyday Carry Pen in 2023?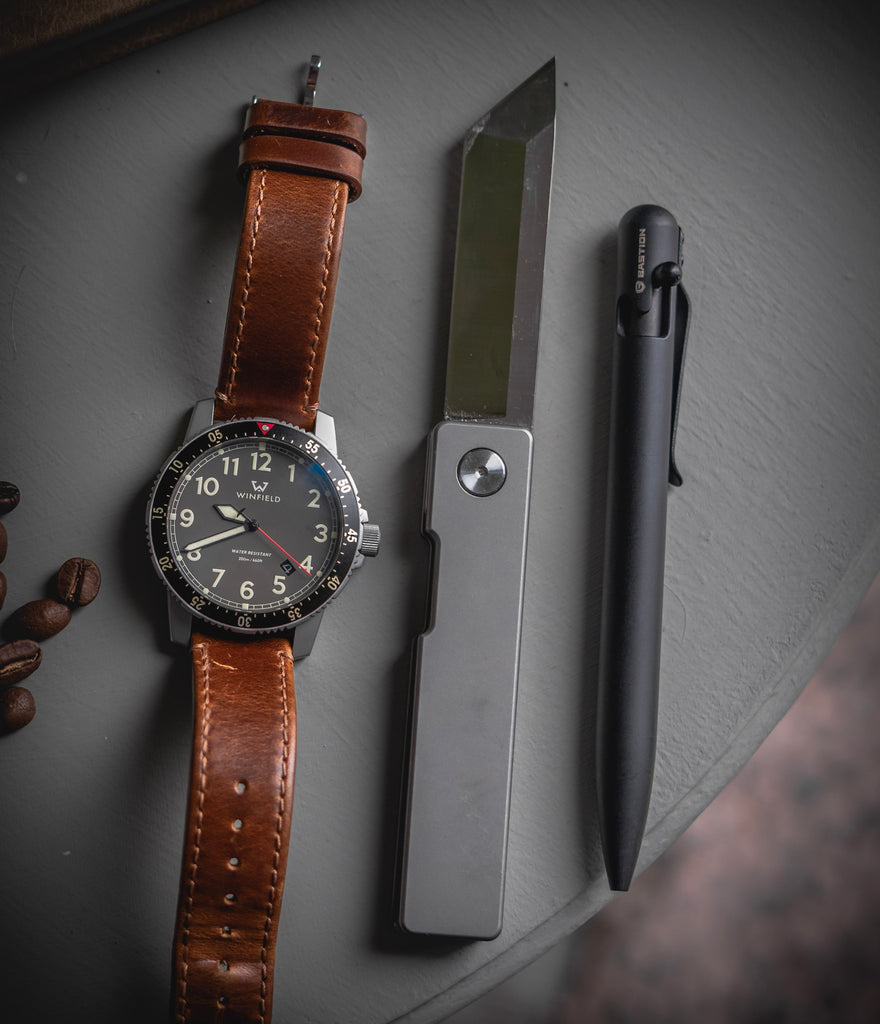 In our fast-paced world, having the right tools at our fingertips is essential. And when it comes to everyday carry (EDC) items, a reliable and high-quality everyday carry pen is a must-have. In this blog post, we will explore the best EDC pens of 2023, discussing their features, pros, and cons. Whether you're a student, professional, or simply someone who values the power of the written word, these pens will meet your everyday needs.
What Are The Best Everyday Carry Pens in 2023?
Uni-Ball Vision Elite Stick
Uni-Ball has long been synonymous with smooth and consistent writing. The Uni-Ball Vision Elite Stick continues this tradition, offering a crisp, consistent 0.5mm black line that glides effortlessly across the page. When you put pen to paper with the Vision Elite Stick, you'll immediately notice the smoothness and precision it delivers. The ink flow is reliable, and its line is consistently sharp. Whether jotting down notes or writing a letter, this pen has a delightful writing experience.
While not specifically designed for EDC, these pens are still great for everyday writing. However, the pocket clips on these pens can be a little flimsy and may pop off easily. This might make them less suitable for those who frequently clip their cells to pockets or bags. Nevertheless, the Uni-Ball Vision Elite Stick is an excellent choice for home or office use.
Essential Precision Products CuPen
The CuPen from Essential Precision Products (EPP) is an everyday carry pen that truly stands out in the crowd. Its unique bolt-action design is both ruggedly handsome and functional. The CuPen is crafted with meticulous attention to detail, resulting in a solid pen in your hand. It's not just about looks, though. The CuPen is made of a naturally antimicrobial copper alloy, continuously killing 99.9% of bacteria. This feature provides peace of mind, especially when sharing your pen with others.
In addition to its antimicrobial properties, the CuPen is designed to last a lifetime. Each pen is hand-assembled in EPP's family-owned machine shop in Fort Worth, TX, ensuring exceptional quality. The CuPen is also endlessly refillable with Schmidt Easyflow 9000 M inserts, allowing you to enjoy its smooth writing experience for years. The only improvement I suggest is swapping out the ballpoint for a gel insert to enhance the writing sensation even further.
Everyman Grafton Pen
Sleek, minimalist, and Instagram-worthy, the Everyman Grafton Pen have gained significant popularity in EDC. Made from anodized aluminum, this pen offers durability and style. The Grafton Pen features a cylindrical body with clean lines and a satisfying weight, making it a pleasure to hold and write. Its compact size allows it to fit easily in your pocket or bag, ready to accompany you wherever you go.
One notable advantage of the Everyman Grafton Pen is its compatibility with various refills. Whether you prefer gel ink, ballpoint, or rollerball, you can easily find the perfect refill to suit your writing preferences. This versatility allows users to experiment and find the ink that flows just how they like it. While the Grafton Pen may come with a higher price tag than other pens, its durability, and aesthetics make it a worthy investment for those who appreciate quality craftsmanship.
Zebra Pen F-701
Zebra is renowned for producing pens suitable for tough conditions, and the F-701 is no exception. This reliable EDC pen, available in an affordable two-pack, is built to withstand the harshest environments. Its all-metal construction, both inside and out, gives it an impressive level of durability. You can confidently toss it in your bag or even accidentally run it over with your car without worrying about damage. Additionally, the heavy-duty stainless steel construction makes sanitizing easy, ensuring cleanliness.
While the Zebra F-701 excels in its robustness, it may become heavy after extended use. Furthermore, the basic ballpoint ink cartridge can feel draggy. While it performs admirably for quick tasks like signing forms or jotting down notes, it may not be the most comfortable choice for writing lengthy pieces. Nonetheless, if durability and reliability are your primary concerns for EDC, the Zebra F-701 is an excellent option.
Rite in the Rain All-Weather Durable Clicker Pen
For those seeking a pen that can withstand extreme weather conditions, the Rite in the Rain All-Weather Durable Clicker Pen is popular. This pen features a pressurized ink tube, ensuring neither water nor air can penetrate and compromise its performance. This pen is designed to keep writing whether you write in wet conditions, upside down, or underwater. It's a reliable companion for outdoor enthusiasts, adventurers, or anyone needing a cell to handle unpredictable environments.
While the Rite in the Rain pen is highly functional in extreme conditions, it may feel like it could be better regarding writing experience. Its ink flow resembles that of a basic ballpoint, lacking the smoothness and precision that some users prefer. Additionally, the standard plastic version of the pen may feel flimsy. However, the durability and performance will likely be enhanced for those willing to invest in a more rugged and costly metal version.
Tombow Airpress 0.7mm Ball Point Pen
While less well-known in the United States than some other brands on this list, Tombow has been producing pens and art supplies since 1913. Due to its unique features, the Tombow Airpress 0.7mm Ball Point Pen has recently gained attention in EDC circles. With a stout shape and a rubber coating, this pen is designed for a secure grip in all conditions. Its rubberized body ensures it won't slip from your hand, making it perfect for those on the move or engaging in outdoor activities.
The Tombow Airpress pen incorporates a pressurized ink tube, allowing it to write upside down on wet surfaces. This versatility proves advantageous in survival and EDC scenarios. While the design may not appeal to everyone, it catches the eye with its distinctive look. For those who enjoy the "fidget factor," this pen offers an additional element of playfulness.
Conclusion
When selecting the best everyday carry a pen in 2023, one must consider personal preferences and specific requirements. The Uni-Ball Vision Elite Stick provides a smooth and consistent writing experience, ideal for home or office use. The Essential Precision Products CuPen is a lifetime investment worth considering for those seeking a standout design and antimicrobial properties. The Everyman Grafton Pen combines style and compatibility with various refills, allowing for customization.
If durability is a top priority, the Zebra Pen F-701 is a rugged and reliable choice. Those venturing into extreme conditions should consider the Rite in the Rain All-Weather Durable Clicker Pen. At the same time, the Tombow Airpress 0.7mm Ball Point Pen offers versatility and a unique design. Whichever pen you choose, ensure it seamlessly integrates into your everyday life, ready to capture your thoughts and ideas whenever inspiration strikes.
Interested in exploring more the world of EDC products? Visit DailyCarryCo to get the latest and innovative everyday carry products.